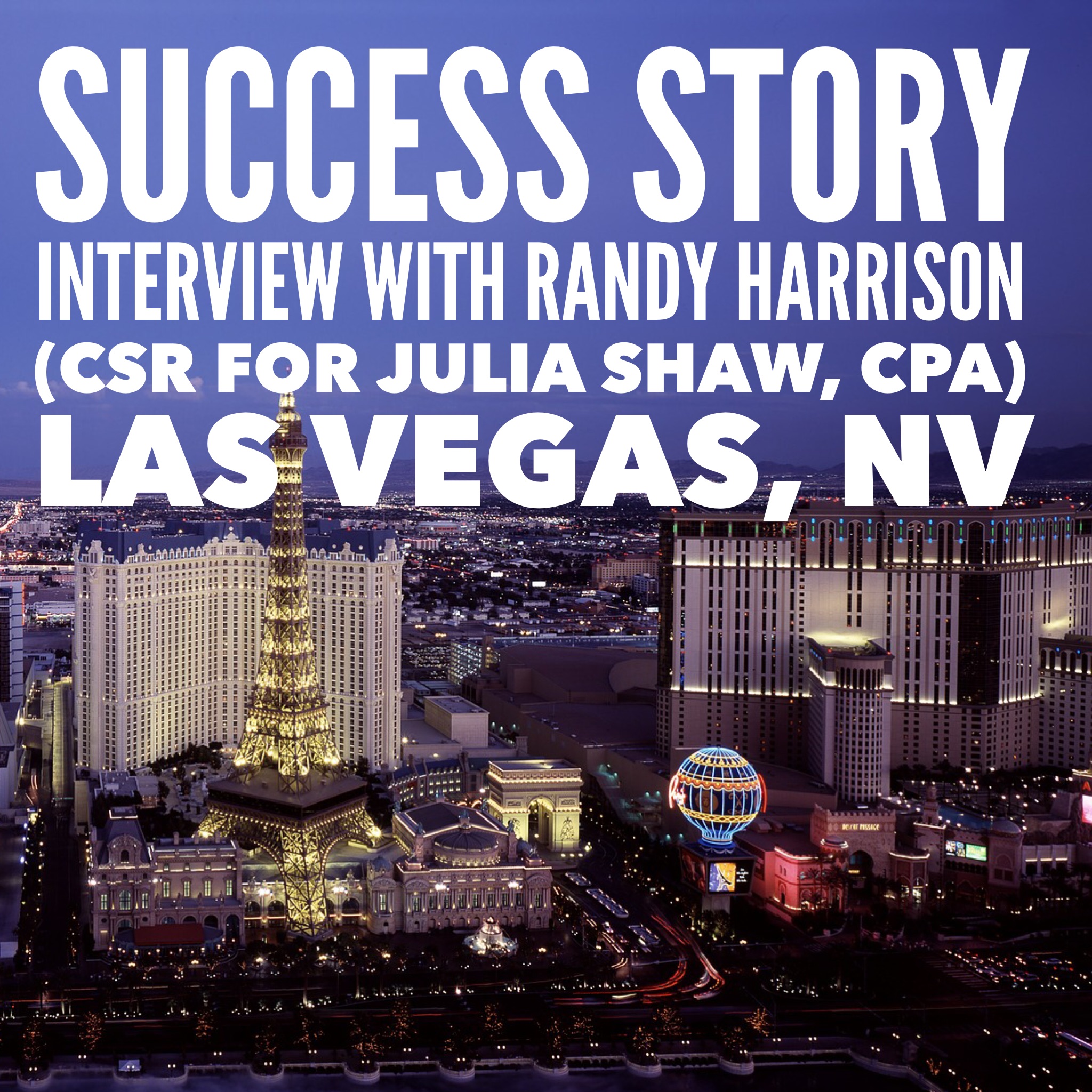 135 New Clients in Only 14 Months!
Thursday, September 24th, 2015
This month's success story interview is with CSR Randy Harrison who works for Julia Shaw, CPA in Las Vegas, NV. As you can see from the title, Randy has been with Julia for a little over a year and he is doing a fantastic job. Randy is an interesting case in that this is the third accounting firm where he has been a CSR over a three year period. Unlike most professions, this "job hopping" is a result of Randy's success as opposed to his failure. Randy managed to sell himself out of the two previous CSR positions by consecutively signing up 100 clients in a year for each of those firms. They get overwhelmed by the work and/or were satisfied with their growth at that point and had to let him go. Read on to learn from a successful CSR three times over!
---
Tell me about your sales background prior to becoming a CSR for the first time.
I have a degree in finance from Notre Dame and I was in the mortgage industry for over 25 years, up until 2008. I held a lot of different positions. I owned my own mortgage company. I was also a national sales manager for The Mortgage Outlet which was a mid-size company doing close to a billion a year. I also was a director of Citi Bank in their lending division. So I've been in sales a long time. In 2008 the bottom dropped out and the mortgage industry was hit the hardest. I was in the wholesale side of the business which to this day has not recovered. The need for a wholesale division today is non-existent. So it was on to bigger and better things. I saw an ad for the CSR position in the paper about four years ago and I went to the interview and was able to acquire the position. Bob Shafer was the NCI Senior Account Executive who interviewed and trained me. I was there for about a year and I sold myself out of the position because after a year there they decided not to take on any new accounts. After that I eventually got another CSR position in an accounting firm and did the same thing, after a year they couldn't take on more work and I had to move on. About 15 months ago I received a call about the job I'm currently in now with Julia Shaw and I've been here about 14 months.
Going back to the first time you worked as a CSR, how valuable was the training provided to you by Bob Shafer?
At the time I was trained I had some sales background, I had a degree in Finance and I had some degree of understanding when it comes to accounting. During training Bob showed me things that I still use to this day. By now I've created my own version of the sales process that works for me but it is still all within the premise of the NCI model. Bob was a great mentor, we don't talk as much as we used to but when I got started I would call him throughout the first year and he was available to talk things over. During my training week with Bob, I think we signed up four new clients together, so it was a pretty successful first week.
What kinds of things did you take away from the training that you are still using today?
I remember Bob wasn't shy about asking for the deal. You need to be willing to go there. I feel like I've developed a sixth sense that allows me to know with each client when to press and when not to. Sometimes it's important to understand that they're not ready. I have learned that everybody wants what the program provides, it's just a timing issue. When you're dealing with younger businesses they may not have the funds available. We try to work with them and I keep them in my pipeline. If they tell me to call them back in a month, I call them back in a month. I stay with them. I pretty regularly pick up two to three deals a month from business owners I first spoke to five or six months earlier. They're always glad to hear from me and they appreciate the follow up. The type of follow up will, I hope, reflect on the work that I want to provide them. The details, the follow up, being there when you say you will, all those things add credibility to the firm and eventually you'll sign them, or they go out of business. Another thing I do is take good notes, it goes a long way when you follow up with someone and remember some important details from the first earlier meetings.
I think we've probably touched on some of these already but what do you attribute to your success as a CSR?
I have a really good telemarketer, Gail. She keeps me moving. One thing I do on each sales call is, after an initial warm-up period, I ask the prospect to tell me why I'm there. Why did they agree to this appointment? At that point they'll tell you and it gives me a good understanding of their hot button issues and then I offer some possible ways to fix those and accentuate those solutions during the presentation and it makes the job much easier. Once you can fix what their problem is and develop some confidence in the prospect about our abilities and find a price point that works, it becomes a fairly easy transition to making the sale.
How much in billings have you brought in for the different firms you have worked for?
I can only tell you, if the average billing per client is $200 a month, I brought in over a 100 clients at the first two firms I worked for in around a year. So that would come out to around $250,000 in billings for the two firms I worked previously. Working here with Julia, I brought in my 100th client in my tenth month. I think I've signed about 135 total so far for Julia. I would estimate that the average client fee is around $175 a month on those. Of course that doesn't include back work fees and tax work fees.
Wow, that is a very impressive track record with three different firms. I hope Julia is keeping up with the work so you can have a job for longer than a year!
She certainly seems to be. It became apparent to me that I'm just a hired gun and if I do my job well enough, it ends. I'm confident in my ability to find another position somewhere when the time comes though. So far, Julia is doing great and we talked about this. She said it would be foolish to stop the growth as opposed to bringing on more processing help.
What is the largest back work amount you've been able to collect?
I brought in one that was right around $3,000 for back work, which is probably the highest so far.
Are there any NCI closing techniques you tend to rely on?
One thing I do now that I didn't do as much in the beginning is utilize several trial closes throughout the presentation. When I get to the end, there is generally an understanding that we're moving forward based on those trial closes. If I can show a prospect how we can solve their problems they are usually ready to sign by the end of the presentation. As I go through the list of services we will provide to the client, each service can be its own little close. For example, when talking about the unlimited consultation feature, I ask if they've ever had to pay to consult with a prior accountant. After they answer I let them know that with us it's unlimited and included in the monthly fee. Thoughts, questions, "what if" scenarios, whatever you need, we'll find the answer for you very quickly. Then I ask, "Would that be of value to you?" If we get all the way through the presentation and they have given me nothing but permission to continue then the close is easy and straightforward at that point, it's that simple.
So basically you are using the "assumptive close" and setting it up with a lot of trial closes beforehand. Do you have any additional advice for other CSRs out in the field to help them sign up more clients?
My knowledge of the accounting profession is so much greater now than when I got started. I've taken the time to educate myself in certain areas that I didn't have a good understanding of. Now I have such a good understanding of almost anything as it applies to answering prospect's questions. That knowledge brings me confidence. I had a situation recently where I met with a prospect and they told me they had a meeting with another accounting firm later that day. I ended up getting the client and the reason they gave me is that I came across a lot more knowledgeable and that gave her the confidence in our ability to select us. So to answer the question, keep learning, use Google, ask questions of your CPA. I ask Julia questions all the time. Having done this for three years now I don't run across many questions I don't have an answer for and it helps a lot. At the same time, I don't play CPA, if they want to get too detailed I tell them that Julia can help them with that when they become a client and they appreciate that.
What is the most difficult aspect of being a CSR?
For me, and I don't know if this is a Vegas thing, but it's all the rescheduling of appointments. We don't have too many cancellations but we do have a lot of reschedules. So I'm ready to go on three appointments today but maybe I'll only end up going on one. That actually happens to me my numbers for today, I had three booked and I went on one. That's the difficult part, and we confirm everything but even then it still happens.
I know one aspect of the program that can be particularly challenging at times is finding and managing quality appointment setters. What is your process like for handling that critical aspect?
I've had good appointment setters in each office I've worked for. I work with them but I don't micromanage them since my job is not to be in the office, my job is to be out in the field. My appointment setters have a few responsibilities. Once they've scheduled an appointment they let me know so I can add it to my book. If I make an appointment in the field, I let them know so they can block it off. I pretty much follow the NCI training manual when it comes to appointment setters. I train them, I make a few phone calls with them and then I tell them to get after it. I do monitor their numbers and if something is off I work with them and usually they aren't following the scripts in that case. I do have one very successful appointment setter here and I will have new appointment setters listen to them to try and mimic their approach. I put quite a bit of time with a new appointment setter and the results are usually positive. So I train them, I let them know what my expectations are of them and then I let them go to work. They'll either swim or they'll sink.
What is your favorite thing about being a CSR?
That's easy. I utterly enjoy meeting entrepreneurial people. That is the most enjoyable part for me, seeing all the ideas people have are putting into practice. I just met with a bitcoin company last week. I had heard of bitcoin but before I went out there I spent about 20 minutes the night before reading about bitcoins. I sat with these two guys, both attorneys, for about an hour and while asking my probing questions it was like I was taking a class on bitcoins. They signed up for the service as well. That's just one example. Is there anything you want to ad? [At this point Julia Shaw, CPA joins the conversation.]
Julia: Are there any questions I can help answer other than how fabulous of a company New Clients, Inc. is? I just want to add that I am very grateful for Randy. NCI couldn't have picked a better CSR for my firm. He follows the program, everything about him is serious business. He keeps us on our toes and keeps his focus. Not only has he achieved the expectations set by New Clients, Inc. he has exceeded them. I've had faith in the program from the beginning and you just have to have that faith and sometimes that's hard to do but it works and I love it.
I'd like to thank Julia for the kind words and Randy for taking time away from his busy schedule to share his knowledge and experience with me.
---
Chris Clark – Executive Editor, NCN Executive Editor, New Client News and Client Support Services
Chris is the oldest son of NCI CEO and founder, Bruce Clark. He graduated with a Bachelor's degree from Loyola Marymount University in Los Angeles, CA in 2005. He has worked for New Clients since April 2006 filling a variety of roles including Senior Account Executive, client support specialist, executive editor of and contributor to the NCI newsletter, New Client News and appointment setter evaluator. Chris also helped Bruce edit his two books, NCI Effect which came out in 2011 and Beyond the NCI Effect which came out in June 2015.