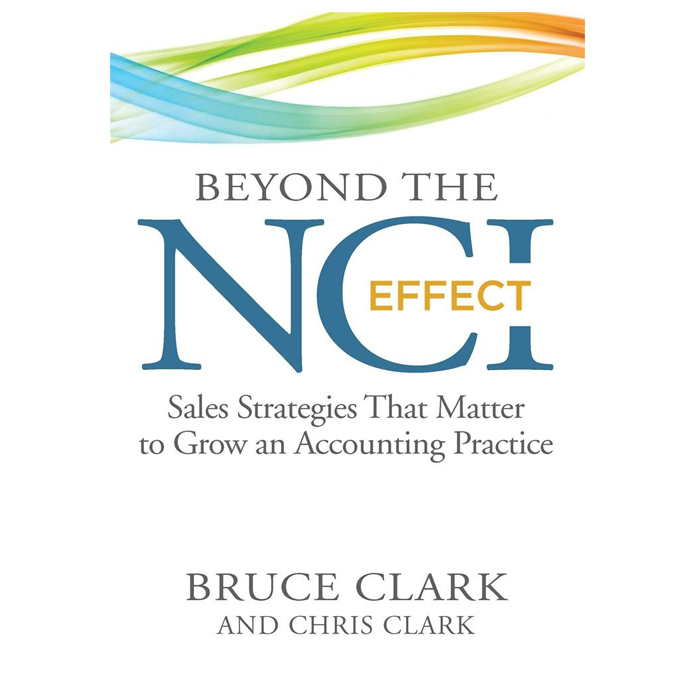 Buy NCI Effect and Get the Sequel Free!
Wednesday, December 9th, 2015
NCI Effect by Bruce Clark, Founder and CEO of New Clients, Inc., is a book that will show you how to target the biggest segment of the market that require accounting services, the small- to medium-size business client. This book will show you a smart strategic marketing plan and teach essential marketing and selling skills that will help you and/or your team build a profitable client base, close the sale, and deliver outstanding customer service that ensures your business success. When Bruce Clark founded New Clients, Inc. (NCI) almost 30 years ago, his sole mission was to offer an explosive client growth plan for accountants and CPAs. The result, a marketing program that has generated more success for accounting firms than any other, has helped facilitate success for thousands of accountants around the world. It has also provided a guide for both business and personal development. The principles which drive that marketing program are distilled in NCI Effect, a work that draws on Bruce Clark's 40+ years of experience working in the field of marketing specifically geared for the small business accounting profession. Regardless of your goals and aspirations, this book will help you achieve them, be they career, financial, personal or all of the above!
In his follow up to NCI Effect, Beyond the NCI Effect, Bruce and his son Chris cherry picked some of the best and most insightful articles from the near 20 year history of NCI's newsletter, New Client News. These articles have been written by numerous NCI professionals with experience both in the office and in the field. They cover a large variety of beneficial topics relating to the NCI marketing program. You will read content from Bruce, who wrote brand new intros to each section of the book, along with Chris who has worked at NCI for 10 years and has edited and contributed to the company newsletter during that time. There are also articles from Todd Steinberg, our seminar director and head of sales, who has worked at NCI for 20 years and also by Pete Borrelli and Dave Powell, NCI Senior Account Executives who combined have been hiring and training marketing personnel in the field for NCI accounting clients for nearly 20 years. The content of the book covers everything from hiring and managing appointment setters to interviews with some of NCI's most successful clients so you can learn from the very best on what has helped them achieve hundreds of thousands of dollars in business growth in a short time frame through effective marketing practices.
For a limited time NCI is offering a buy one, get one free deal on this book set. In other words if you buy one of these books from us, you will received the other one free of charge for a limited time. That's our Holiday gift to you. Don't miss out on this excellent offer, call today at 1-800-338-0778 to place your order. These books would also make a great Christmas or Hanukkah gift to another accountant or CPA, just be ready for some extra competition if you go that route!