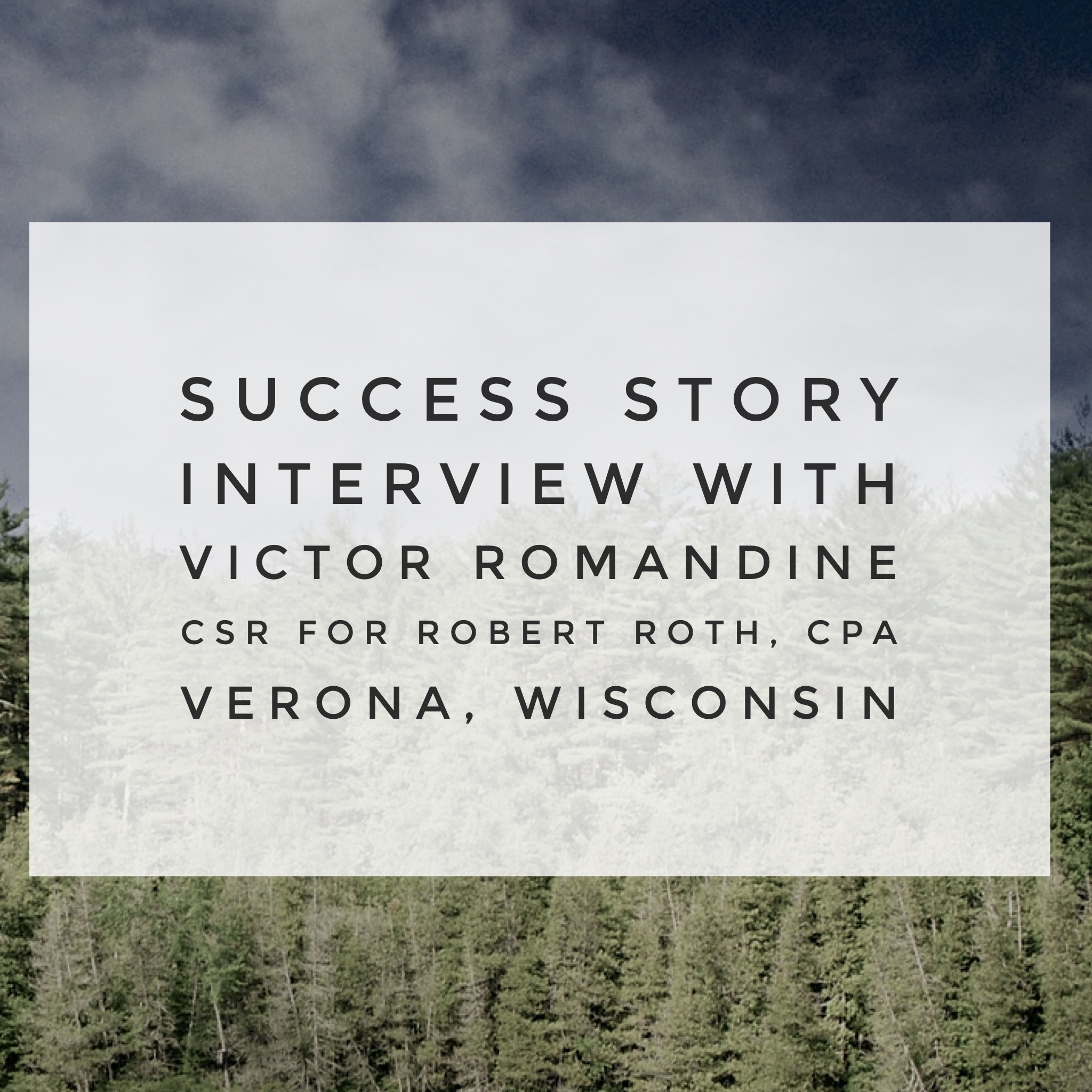 $160,000 in New Business in Nine Months!
Wednesday, June 4th, 2014
Victor Romandine, CSR for Robert Roth, CPA
Verona, WI
This month's interview is a follow-up to last month's where I interviewed Robert Roth, CPA. This month we are featuring Robert's CSR, Victor Romandine. Until just last month Bob and Victor had been holding steady in first place of the NCI annual CSR sales race. They fell into second place last month but that certainly hasn't slowed down their momentum. Victor has only been on the job about nine months.  He was the second CSR hired after the first didn't work out, but in those nine months he has generated over $160,000 in new business for Bob. An impressive feat to be sure. Victor offers some great advice on working with appointment setters and being persistent throughout the sales process, among other things. Read on to learn from one of NCI's current top performing salespeople in the field.
---
Tell me about your sales and work background that lead you into becoming a CSR.
I have an extensive background in sales, primarily in the commercial contract flooring arena as well as a sales management background being a national sales manager for a commercial floor-matting manufacturer. Prior to venturing into my sales career I was initially a staff accountant and then an accounting manager for a bank and a commercial real estate firm in Chicago.
It's actually pretty rare to have a CSR with an accounting background but that obviously gives you a leg up on product knowledge. Tell me about the training you received from NCI when you were hired to be the CSR for Bob Roth's practice.
As you know, I was the second CSR hired for Bob. The first one didn't quite work out the way he had hoped. Last summer NCI conducted interviews and ultimately I was selected. I started in August of 2013. Gene Senatore came out to conduct my training and he spent a week here. For me the training mostly helped as an introduction to the implementation of the NCI system. I have a sales background that I felt gave me a command of the fundamentals that were required of the position, but the training helped me with the exposure to how best use the NCI system and I found that to be the most helpful aspect.
What do you attribute your success in the CSR position to?
For me, persistence and organization are the two attributes that have led to my success. This is something that you talk about in your training but having a good understanding and belief in the value of the services that we're out there offering to prospective clients attribute to being successful in this position. I've also tried to take a team oriented approach to the whole process. I'm not a me-first kind of guy and I think each and every member of the Robert Roth, CPA team has a role in what we're doing with securing new clients. So I've tried to incorporate a very team-oriented approach to the position. All of these things have helped contribute to our success.
That makes sense and echoes a lot of other CSR interviews I've done. Persistence is key in any sales position, I think. The team aspect sometimes gets downplayed but it's really important.
I couldn't agree more and I think that is one of the reasons we've been able to retain one appointment setter for over a year now.
Bob had mentioned that to me. He told me his name is Mike and that he's blind. I plan on featuring him for next month's success story interview to make it a three part series.
I think Mike will give a great interview and it will be highly beneficial for other firms.
The appointment setting can be a sticking point so it's always good to share the perspective of an appointment setter who has had success over an extended period of time like Mike has.
That's one of the things we're most proud of in this first year. The annualized billings are nice, but retaining an appointment setter for a year and with no end in sight is an accomplishment. Plus we're giving Mike an opportunity he might not otherwise have and he enjoys what he's doing. So we take great pride in that.
That's fantastic. Mike's story is really interesting and inspiring, I'm looking forward to sharing it with our readers next month. Another impressive aspect of your results is that you have pretty much 100% client retention over nine months and 60+ new clients. That is amazing and a testament to the work you all are doing there. Bob told me only one new client dropped off and it was because that client went out of business, it had nothing to do with the service being provided. In the nine months you've been a CSR, how much in annually recurring revenue have you added to the firm?
As of nine months, which ended in April, we had $141,000 in new annualized billings according to the weekly reports we've sent to NCI. May is not over yet but as of today we've actually cracked $160,000 in new business.
That's excellent and puts you ahead of the curve. The billing guarantee on the program is at least $300,000 added in two years and you are one year in and have added $160,000 in new business. What's even more impressive is that you've actually only had nine and a half months so far to generate that growth after the first hire didn't work out. What is the largest monthly client you've been able to secure so far?
We've had multiple clients in the $500-$600 per month range. Those aren't the bread and butter clients but we've had multiple clients in that range. The interesting thing about those clients is that they're generally the easier clients to work with. So I enjoy finding those because they've proven to be easier to work with. I attribute that to the fact that they are more mature and due to their size and their sales volume, they a have a better grasp on operating their businesses. The smaller ones are generally newer and they don't have some of the procedures in place yet. They need more help.
Those are the ones we target because they do really need the service and hopefully you can guide them into a similar position that the more established clients occupy. Some accountants look at this program and assume all they will get is $150 a month clients and we like to illustrate through this question that with the NCI method you can and will get larger clients.
I have a couple thoughts on that I can share. The first thing I would say to accountants considering the program is that our ratio, this is unofficial, but our ratio comes out to about half the clients being $200 a month clients which is our monthly minimum figure. I would say the other half fall between $201 and $600 per month. Of those, about 30%-35% are $201-$400 and that leaves about 15%-20% that are over $400 a month. So that's a rough breakdown of the different sized clients.
That's very helpful, thank you. What about back work? That can be challenge for new CSRs to price and handle effectively. What are some of the larger back work amounts you've been able to bring in and how do you approach those situations?
We've had multiple clients with $1,500-$2,000 in back work. Those are a little more difficult to sell. I always tend to approach this as we're going to break those into three or four payments to make it manageable for them and I've always tried to explain to my prospects that we can't help you get to where you want to go if you aren't current with your records. So I try and spin it as a positive that, you Mr. Business Owner, have these goals and you want to succeed but we have to get you current before we can start working on those future goals. That's more of a positive angle. You don't want to browbeat them for falling behind. That's generally been helpful. The other thing I tell them is that it's an opportunity to put some procedures and processes in place so that this doesn't happen to them again. So they feel like they are getting some value out of it.
That's a great point. Let's clean this up and make sure it never happens again and be done with it. What NCI closing techniques do you prefer to use or have you had the most success with?
I will tell you that I've experienced a very small percentage of one-call closes. Initially that was a bit of a hang-up for me because part of my interpretation was not only if you achieved a one-call close you would get commissions sooner and all of that but that it was a goal of the process. I think I've got some clarity working with Gene in the early days on that. One-call closes are ideal because it reduces the opportunity for other factors to get in the way of securing a client. Since I've had a small percentage of those, follow up and relationship building have really been the key to my success in closing. Before this interview I stopped and saw a prospective client today that I've been talking to for six months now. I know there are people out there who would have given up on that opportunity by now but I'm absolutely convinced that they will be a client of ours at some point. So that goes back to the persistence thing, follow up really requires a lot of organization. I'm a consultative salesperson to begin with so relationship building is really important to me as a part of the process. That's what has really contributed to my closing process. There are times when I use NCI closing techniques like the silent close or the results assurance program but because so many of these prospects were cultivated over multiple weeks or even a couple months, organization and follow up are the real keys to my success.
The accountant/client relationship is really a consultative one so that approach make sense and obviously it has worked quite well for you. A lot of people are not going to make a commitment on the first meeting no matter what you do and that is why persistence is so important for a salesperson.
I would also add that because of my accounting background I'm very sensitive to the fact that I'm initially sitting down with a stranger and wanting to talk about their financial information and see their tax returns and bank statements.
It can be pretty invasive for a first meeting.
Exactly, so that's where the relationship building component comes in. As they get more comfortable with me they'll expose more information. This is another unofficial number but something like 30%-40% have had some kind of back tax issue. So to expose your warts like that is sensitive and people are not going to naturally do that unless they trust you, the salesperson, and that you have their best interests at heart.
Very true. Can you offer any additional advice to other CSRs out in the field to help them bring in more clients?
That's a great question but it's ironic because I recently had a conversation with Krystal Johnson down in Texas who is another CSR in the top five of the NCI sales race. Krystal contacted me and we had a really healthy conversation about what's working for both of us. While we are competing against each other in the sales race, we're all part of a bigger NCI family following the same process. Krystal had some different experiences from me and her background is different. The different markets also play a role. The foundation for our success is persistence, being organized, have a knowledge base of what we're offering, and understanding the value that those services represent. I also set goals for myself that I'm working on achieving.
Goal setting is a big part of the NCI program as you probably know. You've mentioned organization as a key aspect of your success, can you expand on how you stay organized?
Probably the most poignant thing that I did was, I converted the entire NCI system from a paper based system to an electronic based system. So I do everything on a laptop. I don't do the presentations electronically, I still use the presentation binder for that. All of the backend work, all of the prospecting, all of the reporting I keep on my laptop. It's a lot more streamlined and efficient for me and it's portable. If I had to carry around all the paperwork I've generated in my 10 months here, it wouldn't be feasible. With my laptop, I can do that. So that's allowed me to maintain that organizational aspect. It's also tied in with working with Mike the appointment setter. Mike can't work with paper, everything he's doing is electronic because of his disability. This allows us to work much more closely and share information better.
What advice do you have for accountants running this marketing program?
I have two distinct thoughts as it pertains to that question. The first is that I would encourage them to do their due diligence on the NCI system. With that, if they make the decision to go forward, I would tell them to be prepared to commit 110% to the system. With all due humility, hiring the right CSR is paramount. If the CPA or accountant is not sales or marketing-centric, this is going to be a somewhat uncomfortable transition for them. Another thing that I've really tried to foster here at Roth CPA is communication. I think it's absolutely a critical factor in being able to handle the workload. I foster communication between myself and Bob and between myself and the appointment setters so that everyone knows what everyone else is doing and that we're all on the same page and working towards the same goals. I can't emphasize enough how important communication is in this program and it wasn't easy at the beginning for us. Bob had been operating the firm a certain way. It wasn't in his comfort zone to change that, but he's certainly embraced the program and we've all realized the benefit of communicating with each other and making that a priority.
Everyone's success in the program is tied together so it makes you want each other to be successful. Bob mentioned to me during our interview that he had 10 years sales experience before becoming an accountant, did that help your communication with him?
It does add an interesting dynamic because he knows how challenging sales can be from time to time. Quite frankly he got out of the world of sales because he didn't care for it and the rejection involved. He understands that not every day will be a homerun for me. He understands that I'm consistently cultivating opportunities and they have a life and mind of their own to an extent. It's been beneficial to our relationship that he understands those kinds of things. He provides me a large degree of autonomy, which I thrive with, and as long as I keep producing I can't imagine how he wouldn't be happy with that.
Neither can I. You mentioned working with Gene, who trained you, early on for support. Can you talk a little bit more about how he helped you?
Gene and I spent the initial training week together and during that week our relationship really grew. By the time he left, he certainly offered his time and support to me. He sensed that I needed it and initially during the first month I would reach out on about a weekly basis.  I would share my experiences and he would give me some insight. After about a month I stopped leaning on him so regularly, but over the last six months I've talked with him on a couple different occasions just to bounce some thoughts and experiences off of him. He's got more perspective and experience in this than I do and he's been a great cheerleader and confidant for me. It's a unique situation, most people going into a sales opportunity don't have that person to fall back on, or in a lot of cases the comprehensive system that NCI provides. This all adds value to the program.
Another thing I'd like to add is that another thing I tried to make a point of doing was attending every Monday afternoon coaching call provided by NCI. I didn't have 100% perfect attendance but I was making three out of four of those a month. I want to emphasize that this is something other CSRs should be taking advantage of, especially while they're first getting started. Sometimes a CSR might think, I don't have the time for that and I would say the opposite, you can't afford to miss that early on. I think there is too much value in it.
What's the most difficult aspect of the CSR position for you?
Time management is the most crucial part of this position. I prefer to think of the question as what is the most crucial thing versus the most difficult thing. Time management is critical. The territory that we target for sales is fairly dense as far as population. We've extended ourselves out into a more rural population as well. That's a lot of area to cover and it presents a lot of opportunities so time management is the crucial aspect. The more we can cut down on me wasting time driving back and forth across town the better I can do my job.
Thank you for taking the time out of your busy schedule to do this interview. We appreciate all of your kind words and good advice and I wish you and Bob the best of luck in winning the sales race!
---
Chris Clark – Executive Editor, NCN
Executive Editor, New Client News and Client Support Services
Chris Clark is the oldest son of New Clients Inc. founder and CEO Bruce Clark. He has worked as a Senior Account Executive at NCI for the past four years. During that time he has presented at the Practice Development Seminar on Internet and E-mail marketing and he also plays the prospective client during the seminar role play sessions. Chris also edits and contributes to the NCI newsletter, New Client News.