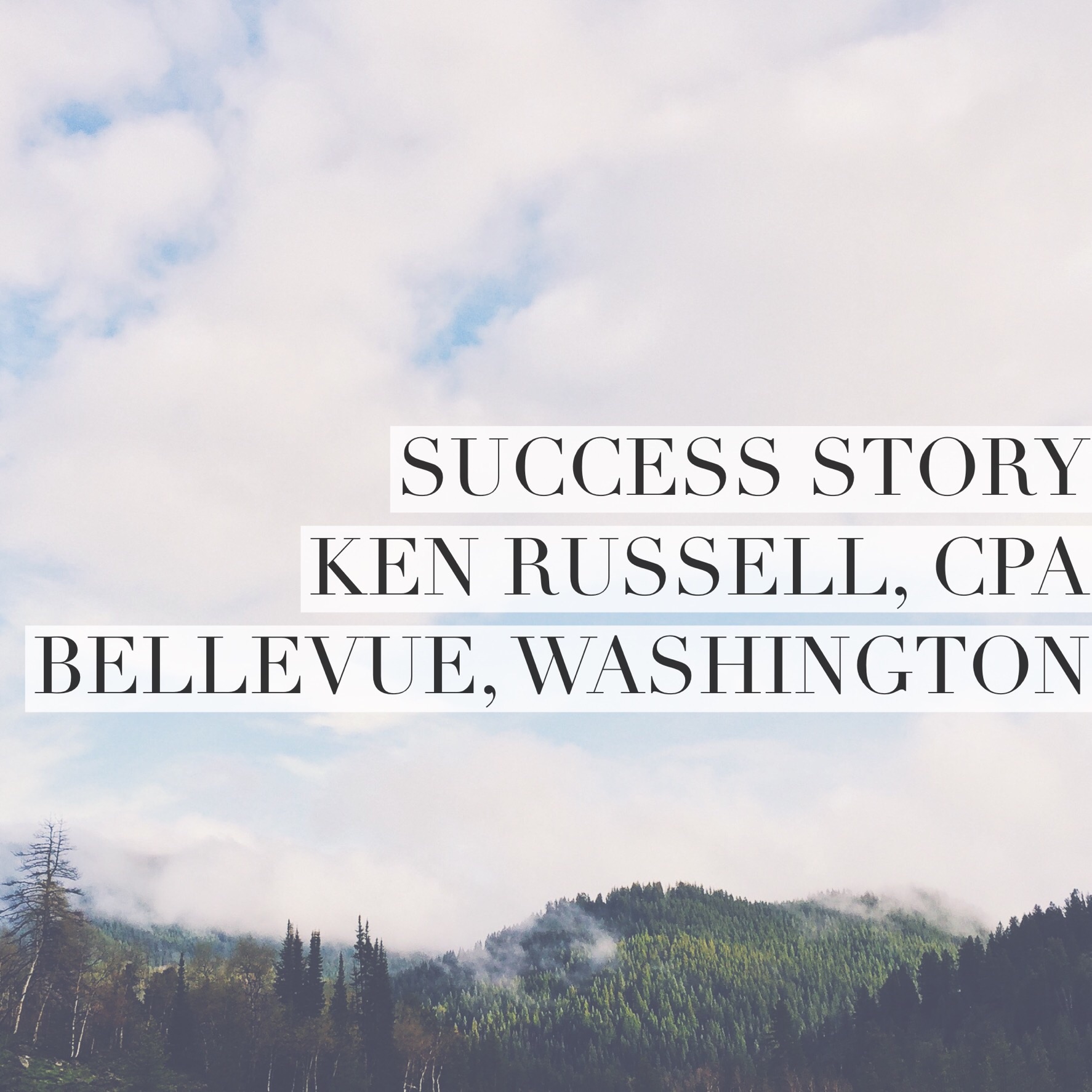 Double the Business in Only Two Years
Monday, October 7th, 2013
Ken Russell, CPA in Bellevue, Washington
This month's success story is with Ken Russell from Bellevue, Washington. Ken has been in practice since 2006 and he attended the Plan 1 Practice Development Seminar and the Plan 2 marketing program in 2011. After two years in the program, Ken has accumulated close to $250,000 in new recurring business for his practice. In our interview, Ken discusses his success with the program and lays out some great advice for those considering an NCI program and for those currently running one.
---
Please tell me about your business background prior to starting your first accounting practice.
I graduated from the University of Washington with an accounting degree. I worked at Arthur Anderson. Eventually I bought my first CPA firm and had that for about nine years. I then sold that firm to stay at home with my daughter for her first five years. Then I bought my current practice on May 1, 2006. The seller had listed his practice through NCI. Once my daughter was in school, I bought that practice, which was doing about 200k and dropping.
That's great that you had the opportunity to stay at home with your daughter for those first years. So purchasing that practice was your first exposure to NCI?
The previous owner had purchased the home study version of the Practice Development Seminar. I had seen NCI ads in the JOA and I also read through those seminar materials, which was my first real exposure. The previous owner of my firm had also utilized ideas from the Advanced Processing Seminar that NCI offers.
When did you implement the NCI marketing program?
For a couple of years, I thought I would just implement the marketing program, myself, using the marketing materials the previous owner had given to me and, of course, I never got around to it. My practice drifted into doing some contract controller work and I realized I just didn't like that type of work and I wanted to get back into working with small-business people. So, I had two big contract controller jobs and both of them asked me to go to work for them and I said no to both, so they found someone else and all of a sudden all those fees disappeared. I also attempted to buy a smaller firm and that was moderately successful but not what I hoped for. This all happened in the summer of 2011. In August, I attended an NCI webinar and then attended the Practice Development Seminar in Minneapolis in September of 2011. I went into that seminar thinking that I could just refresh my knowledge of the program and implement it, myself. By the end of the second day, I realized I was fooling myself. I didn't have the time to do both the work and the marketing. So, at that point, I decided to upgrade to Plan 2.
What was the size of your business when you attended the seminar and upgraded to Plan 2?
After removing the two large contract clients, I was left with about $200,000 in annual revenue when I started the Plan 2 program.
How much in business did you lose on the two contract clients?
Combined, they represented about $65,000 in annual revenue.
What do you expect the business to do this year?
We'll do about $430,000 this year.
Do you attribute most of that growth to the NCI marketing program?
I'd attribute at least 80% to 90% of the growth to the NCI marketing program.
What was your biggest concern before attending the seminar and, also, before upgrading to the Plan 2 program.
My biggest concern before going to the seminar wasn't even really about NCI. My primary concern was that I needed to do some serious marketing and grow my practice. For me, it seemed that either implementing the NCI program, myself, or having NCI implement it for me were my two options to get the kind of growth I was looking for. After attending the seminar, the biggest concern was the upfront cost of implementation. You have to realize that you are going to recoup that and bite the bullet and do it.
That's a common response to that question. We try to explain to people that it is an investment in their business and their future. It should not be viewed only as a cost. If you fixate on that aspect, you'll never do it.
Also, if you're going to put that kind of money into something then you're going to take it seriously and you're going to make it work. If it was a $5,000 implementation fee, you might not be as dedicated to it because you don't have as much invested in it. It really dedicates you to the program.
We tell people you have to be forward thinking with this program. It's an investment and it takes some time to get built up and reach the breakeven point, where positive cash flow is being generated. At the same time, the end result is that you grow your practice significantly in a brief period of time, something almost everyone wants but few accountants really know how to accomplish consistently. What has been your biggest challenge in running the marketing program?
I was very fortunate; NCI helped me hire a salesman who was absolutely perfect for the job. He basically was able to take over the marketing end of the practice and I didn't have to pay a lot of attention to it. David Wilde is my salesman and he is just the perfect fit for the position. So, I was lucky that the marketing program played out just like I hoped that it would, in that I was able to hand it off to someone and let them run with it. So my biggest challenge was just on keeping up with the work that was being brought in.
What advice would you offer to someone considering utilizing the NCI marketing program?
As Nike puts it, "just do it." If you want growth through the NCI program, you have to get past the initial investment and you have to be ready for quicker growth than you've probably ever experienced in your firm. About a year ago, someone called me who was considering NCI and asked me what my biggest regret was in relation to the marketing program. I responded with, "not doing the program sooner." If I had done this in 2008 instead of 2011, even being right in the middle of the recession, I would be so much further ahead than I am now. So, just do it; it works. And it works to varying degrees for various firms, but it works. You get something out of it and that can vary, but I think in the end they all add enough that it makes sense to do it.
What advice can you offer for someone currently running the marketing program?
I think one of the biggest things is that we started out with our minimum monthly fee set too low. We started out with that number at $100 a month for the minimum. Now, our minimum is $200 per month. The point to make there is don't buy the client. In the beginning go in with a number that really makes sense and maybe even a number that is a little higher than what you think you're worth because you will be providing good service. In the bookkeeping business, there are not a lot of firms, CPA or not, who do a good, thorough job at bookkeeping. So don't set your minimum too low. Of course, that varies with geography. Our market is a higher cost of living area.
The second thing I want to point out is to start your internet and SEO (search engine optimization) advertising early. The nuts and bolts of the NCI marketing program is cold calling. While we've been cold calling, we've tried other approaches like print advertising and internet marketing. We've met with some success, there but not nearly the level of success we have with cold calling. Ultimately, the two biggest sources for new clients that we've found are cold calling and referrals. At the same time, don't discount the internet option, because more and more people are going to the internet, doing a search and calling us up. If they did some research and liked what they saw then contacted us and we have a good first meeting, it's a done deal. The thing about the internet leads, in my experience, is that they don't make a call to you unless they are ready to do something. They're hot leads.
One other point I'd like to make is about the idea that the monthly fee covers contact with me for brief questions by email or phone. People I know and have talked to, baulk at that a little bit. I would not do that. It's a selling point that this fee not only covers bookkeeping, but, also, access to the CPA by email or phone for questions at no additional charge. You need to have the caveat that if that conversation leads to some kind of project work like an audit than an additional fee does apply for the additional work.
Very good advice. Have you ever had someone "abuse" the unlimited consultation feature?
I had one client…
There's always one!
There's always one. I don't think they were trying to take advantage of the situation, it was just the way they read the situation and they had a lot of questions. We did their work for a year on a flat fee and after that I told them we were switching them to an hourly rate. As soon as we did that, they left. I was actually glad they didn't take the hourly rate offer. It was a nuisance client.
That raises a good point about difficult clients. If you find out a client is more than you bargained for, you should make it worth your while, so you raise their fees for the next year (keeping in mind that they take up a large amount of your time relative to other clients). At that point, they can either accept that they need to pay more or they can leave. Either way you win, because you either get paid a fair fee for a difficult client or you eliminate a difficult client.
What is the largest client you've been able to secure through the marketing program?
The largest client we've brought on with the program is $10,000 per year.
Okay, and what is the client with the largest amount of back work that you can recall?
We had one client with about $6,000 worth of back work. We've also had a number of clients where the back work totaled $2,000-$3,000. We run into people who say that they haven't done anything tax related for five years and need to get caught up. With the recession, especially, you find a lot of people like this. My advice on them is that typically those people are short on cash, so we do one year, get paid, then the next year and get paid. We also take about a 50% deposit up front for each year. So we don't do four or five years worth of work and we've collected 50% of our fees and, all of a sudden, the client isn't paying us the remainder. When we have those multi-year projects, I take them one year at a time.
That is a question I get fairly often, how to handle and price large back work amounts.
We rarely do back work on a flat-fee basis. We use an hourly rate for that. Let's say a client's monthly fee is $250 and they need four years worth of back work, so they're looking at $3,000 a year. We say to the client, we can probably do the work for less than $250 a month because some of the work is already done and we can do it fairly quickly. So, we'll do the back work at $60 an hour and we're pretty sure it won't go over the $250 a month and if it looks like it will, we'll get in touch. It's good to keep your options somewhat open on back work, while also making the client feel comfortable that they won't be taken advantage of.
Do you have an issue with the fact that you are trying to move forward with the client's bookkeeping, but also having to deal with back work at the same time?
From our perspective, the biggest thing is that you're doing double work with the current month-to-month work and also the back work. From the client perspective, it's a matter of them understanding the fees and the difference between their ongoing monthly fee for current bookkeeping and the additional fee associated with their back work. We actually changed our Client Service Agreement to specify the month when the monthly fee begins because sometimes we'd sign someone up and they'd give us the first month's payment and the installation fee and, then, they don't get us any documents for two months and they think the monthly payment should start at that point when they get the work to the firm. You need to be really clear on how the pricing works. My CSR David and I, have gotten to the point where we can really effectively explain how the fee setting works and the client understands it. Sometimes things get misinterpreted no matter what you do, so it's important to be as clear as possible because if the pricing isn't clearly understood, it will cause issues down the line.
Going off of that, it's also really important to stay on top of fee collection. We probably have about 40% of our clients on automatic withdrawal for their monthly payment, but for those who aren't, you need to make sure you are getting paid because all of a sudden you've been doing the work for a client and they're four months behind in paying you for it. At that point, you just have to stop and say I'm not doing any more work until you pay me. You have to be ready to lose that client because you can't work for free.
No one should have to chase payment for work they've already completed. I'd like to go back to something you said earlier. You mentioned website and SEO marketing. Are you doing those things through the NCI-provided CPA Site Solutions website or had you developed a site through other channels before doing the NCI program?
I had my own website until I went to the NCI Practice Development Seminar and then I switched to a CPA Site Solutions website. As a website, I think it's absolutely fantastic. It looks professional. We use their platinum level service and with that they send out a newsletter to our clients every month that is relevant and well done. We also signed up to do search engine optimization through them. There was an additional cost to get that setup but it was a onetime fee, it didn't add anything to our monthly fee for that. It's hard to tell with search engine optimization exactly what you are getting from it. Also, CPA Site Solutions runs a Google AdWords campaign for our website. They linked us up with the major search engines and also helped us select our Google AdWords search phrases. Let's say conservatively that we are getting about two leads a month from the website and closing one of those each month.
That's a good supplement to the cold-calling effort. To wrap up, can you sum up your overall feelings on NCI and our marketing programs?
I have been very happy with the program and very happy with the results. I would do it again in a heartbeat. I would recommend anybody who wants to run this kind of business — and it is a specific type of practice, it's not a tax practice — to do this program. A lot of CPAs get hung up on not wanting to do bookkeeping.  I don't know whether it's because they view it as beneath them or they don't want to do the work or that the margins aren't there, etc. If that's the case, the program is not for you. If you want to run a tax and bookkeeping practice, in my opinion, the best way to get going with it is to do the NCI program. Like I said, I'd do it again in a heartbeat.
Thank you Ken for taking time out of your no doubt busy schedule to conduct this interview, your kind words and sage advice are much appreciated.
---
Chris Clark is the oldest son of New Clients Inc. founder and CEO Bruce Clark. He has worked as a Senior Account Executive at NCI for the past four years. During that time he has presented at the Practice Development Seminar on Internet and E-mail marketing and he also plays the prospective client during the seminar role play sessions. Chris also edits and contributes to the NCI newsletter, New Client News.