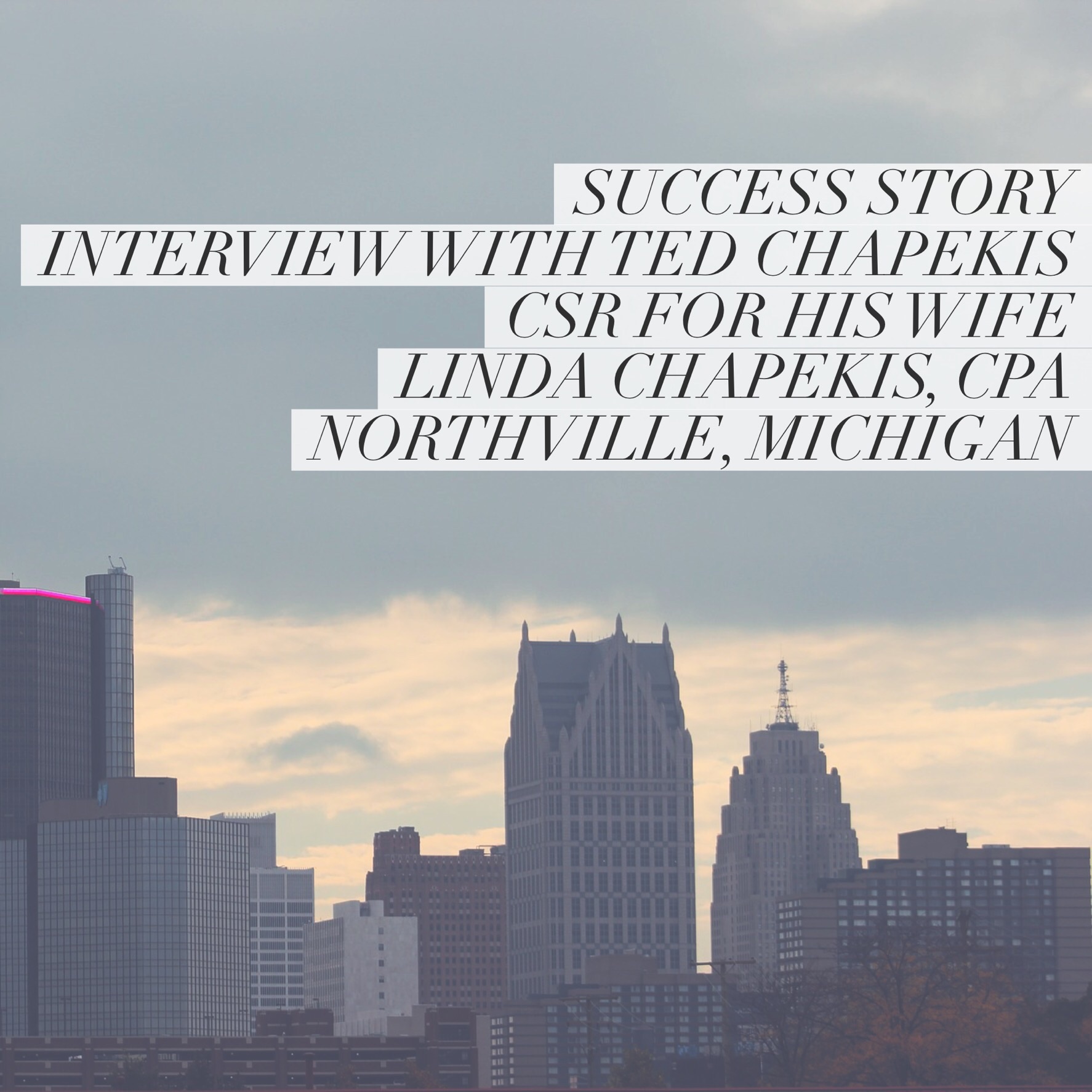 How to Build a Million Dollar Accounting Practice
Monday, December 9th, 2013
Ted Chapekis, CSR for his wife, Linda Chapekis, CPA
Northville, MI
Our success story this month is with Ted Chapekis, who is the CSR in his wife Linda's accounting practice. In 2005, Ted and Linda decided to focus on taking Linda's small, existing practice in an exciting new direction. They wanted to dramatically increase the size of the practice so that it could provide for the family after Ted left his job at Chrysler. To develop the business into the $1 million firm that it is today, Ted and Linda utilized the NCI Plan 2 Client Acquisition Program. After the initial CSR they hired did not work out, Ted decided to fill in at the position and he never looked back. Read on to learn some great tips from Ted on what makes him successful as a CSR, along with some other good insights into the program.
---
Tell me a bit about your work background before you starting working as a CSR.
I own the practice with my wife and she's the one with the accounting background. My primary role and responsibility is as the CSR.  Also, from an administrative standpoint, I handle those aspects of running a business: its legal issues, purchasing items for the office, HR-related issues, all of those types of things. We started the accounting firm, as it stands today, in 2005. In 2005, we also went through the NCI program and upgraded to Plan 2.
Linda has had a business since 1992 – just not in its current form. She was more the per-diem controller for a select few, higher-revenue-type businesses. Businesses that were really big enough to consider having an internal controller, but never really took that step. So she took on that position for those firms. She supervised their bookkeeping staffs and, at times, their administrative staffs.  She did that for a few hours per week; it wasn't a fulltime gig for her. She'd have anywhere from 8 to 12 clients where she was serving in that role.
I went with Chrysler right out of school. I went to Michigan State and got a Masters in labor and industrial relations.  I started with Chrysler two weeks after graduation and was there until 2005. That included some stints in Europe, which is really what led me to look at alternative ways of making a living. I was in Germany right after the merging of Chrysler and Daimler, from 2000 until 2002. My position at that time was as the director of what they called the corporate university, which was a fancy name for an executive development department. I did the same job in Detroit from 2002 until 2005, although my staff was still in Germany. That means I was commuting from Detroit to Germany two weeks out of each month and it was getting really old. I had young kids growing up and I wasn't seeing them enough. We were trying to get me into a better position in the company, but they were downsizing, so the positions just weren't available. They kept telling me to be patient, but my patience ran out in 2005, when we decided to try to build up Linda's business and that's what we did using the NCI program.
Can you tell me a little bit more about your decision to take the business in a new direction using the NCI marketing program?
As you know, owning an accounting firm for a lot of accountants is little more than buying a job. They are like a lot of doctors, lawyers, and attorneys in that they have a small number of clients that can be handled and they stop at that point because they can't handle any more work on their own. We really approached this as building a business and we wanted a way to leverage ourselves through coworkers in order to grow the business. I often get asked the question, "Are you taking on new clients?" We're always taking on new clients. To us, that's like asking Wal-Mart if they take new customers.
What was the size of your wife's business when you started the NCI marketing program?
It was small. When I was with Chrysler, I was the chief breadwinner, so the focus was more on my career. She was maybe grossing $100,000 to $200,000 a year on a good year. Her ability to grow was limited by my need to travel for my job. When we decided to go in this new direction, we decided to phase out her current clients because they were too large and didn't fit the NCI model.
We had a lot of people who owned smaller businesses approach us wanting the type of service my wife provided to her large clients. We had to tell them that they couldn't afford the hourly rate for that level of service. We wanted to figure out a way to deliver controller-like services to smaller business owners at a price point they could afford. Linda was doing some research on this and discovered NCI.
We both attended the Plan 1 Practice Development Seminar to learn about the model and how to run it. We bought in with some reservations stemming from the fact that Linda was charging $125 an hour for her services and we had to wrap our heads around charging around that amount per month instead. We wondered if it was doable. Ultimately we decided to upgrade to Plan 2 and give it a try. I should say that we also went to Fiducial before NCI to consider their approach but we were unimpressed. [Editor's note, Fiducial sells franchised accounting firms throughout the United States and is a French-owned company.]
According to our database you attended the Plan 1 seminar in late 2004 and upgraded to Plan 2 in early 2005. Did we train you as the CSR from the start?
No, you didn't. Pete Borrelli was the NCI representative who installed our program. He interviewed the appointment setters and the salespeople. The person we hired ended up not working out after a few months due to lack of sales. After we ended that relationship, I decided to attempt it and I'm not a salesperson, I've never been trained in it and don't particularly like it. The first appointment I went on converted to a sale.
I bet that changed your feeling on sales a bit.
I know, right? So I was the new salesperson and I still am.
I was wondering if you had any sales in your background, but it sounds like the answer is no.
That's right. I worked in labor relations, which has some sales-type elements to it, but it's not a sales position. My specialty was in the executive compensation area. One benefit to that is that I understand numbers and accounting and the importance of good accounting and tax planning. I know enough about our business to understand that every small business needs our service. If you go out with a passion and the attitude that this is something they need, it makes a big difference. Sometimes I want to shake people and say, "don't you realize that you could be saving a ton of money with the right service?" That, perhaps, gave me the tools necessary to sell this service.
That goes back to having confidence in what you're selling, which is one of the keys to all sales. It makes you that much more convincing when pitching the service.
I'm not selling copiers [laughs] and that gives me a leg up. We have plenty of competition, but I can truly say with conviction that I don't know of anyone else in the area that provides not just the services we provide, but at the level we provide them, in this area. Where else can you get tax projections during the year and where else can you get unlimited contact with your accountant for a flat monthly fee? Other firms in our area have a flat monthly fee, but they don't generate the same level of results that we do.
Approximately how much growth have you been able to develop since essentially starting the practice over from zero using the NCI marketing program?
Last year we did over a million in sales. This year we've had some modest growth. We had really good growth from 2005 to 2008. The growth slowed down in 2008, partly voluntarily and partly involuntarily. Of course, 2008 is the year the economy went south and we're in Detroit, so the economy was never great here, even in 2005. That was right around the time that we needed to slow our business down anyway because we needed to work on our processing and catch up with all the new business we'd brought in. Around 2008 we were doing about $600,000 in annualized billings. We wanted to focus on hiring the right people and increasing the quality of our work. About a year ago, we decided to really focus on growing again. This year we've grown by about 10%. We have about 230 monthly clients right now. Because we're located in Detroit, we do have a high attrition rate to deal with, mainly because many companies go out of business. We'd like to get back to growing at a rate of 20% to 30% a year. I'm authorized to hire up to eight part-time appointment setters and we have four small offices to house them in.
What has been your biggest challenge in running the program?
Closing clients in a depressed location is my biggest challenge. It's not that the service is something they don't need or want and it's not that I don't demonstrate that this is a service they can benefit from, but when I tell them our minimum monthly fee is $160 a month, you might as well be asking them for their left arm. Some businesses just don't have money anymore. The second item we struggle with is finding good employees, and not just appointment setters. The appointment setters are one thing, but also finding good bookkeepers, good tax professionals, et cetera, is also necessary. It's hard to find good employees out there.
What advice do you have for someone considering the NCI marketing program?
This program isn't for everyone. You have to decide what you want to do. I come across a lot of accounting firms that our clients come from, where they are very content to do your tax return and that's all. For a lot of people, that's what they want to do because, after April 15th, they get to take off to Tahiti and not have to return until next February — with a few exceptions, but you get the idea. So they have a lot of time off.  In my experience, I've found that a lot of accountants are lazy; they like to work hard for three to four months and then scale back their workload significantly. If that's the way you want to be, great, you can make a living doing that. This program would not be for you. This program is for those who are motivated to build a business and work throughout the year and work hard, at least initially. If that is what you want to do, then this program will give you the tools, processes, and procedures that you need without you having to come up with them on your own.
What about advice for someone currently running the program?
One thing is to stick to the program. There are going to be ups and downs and you have to ride those waves. It's hard to do.  I'm a big believer in sticking with the program and not trying to overthink the process and change it. I didn't always follow those rules myself. At times I wasn't motivating or overseeing the appointment setters properly or I wasn't offering them ongoing training at the position.  I would overthink the program and instead of giving them their usual bonus for setting an appointment that becomes a client, I would give them a little $10 bonus for each appointment they set regardless of outcome. That was a bad idea. So when you try to overthink the program and you want to customize and modify it, that might be as a result of a deficiency you're having in trying to run the program properly.
I called Todd [Steinberg] recently because we were looking into buying some practices.  During that discussion, I came to the conclusion that I wanted to go back through the program again as a refresher. So, I had him send me the updated program materials to go through it again and I did that and it really motivated me. I was very familiar with a lot of it already, but was I really using it all and doing it well?  It motivated me to get back to basics and do what the program says to do. One small change that I did make was I don't use a lower-tier reward for the appointment setters when they set an appointment that becomes a client. I give them $50 no matter how big the client is. That is the only modification I've made to the program. So, my advice is stick to the basics and don't try to overthink it. That goes for the processing side as well.
You provide some good advice that I can attest to. The majority of the time when a program is having difficulty it boils down to not following the program in some way. What are some of the larger clients you've been able to secure through the program?
We do have one client that is an international client, where we do a lot more for them on a monthly basis than we do for a standard client. We charge them $2,000 to $2,500 per month, which makes them easily our biggest client. The bookkeeper who handles that account spends a good three to four days each month working on it. The next-largest client pays us $700 a month. I'm of the attitude that you can take that $2,500-a-month client tomorrow and replace it with ten $250-a-month clients. I'd much rather have smaller clients; I don't want to be dependent on any one client.
That's what we advocate. Smaller clients are much easier to deal with as a general rule and most of the work can, and should, be handled by bookkeepers and staff accountants. What about client back-work amounts?  Do any of those stand out?
I checked with our accounting department and we had one client with $8,150 worth of back work that we did. There was another one with $6,000 worth. Those may have been spread out over the course of years. We take it one year at a time, with 50% payment down for the year and the other 50% upon completion.  Then, we move on to the next year.
Thank you for the information, Ted. I'd also like to thank you for taking time out of your busy schedule to do this interview with me. We at NCI would like to wish you and Linda many more years of growth and success!
---
Chris Clark – Executive Editor, NCN
Executive Editor, New Client News and Client Support Services
Chris Clark is the oldest son of New Clients Inc. founder and CEO Bruce Clark. He has worked as a Senior Account Executive at NCI for the past four years. During that time he has presented at the Practice Development Seminar on Internet and E-mail marketing and he also plays the prospective client during the seminar role play sessions. Chris also edits and contributes to the NCI newsletter, New Client News.