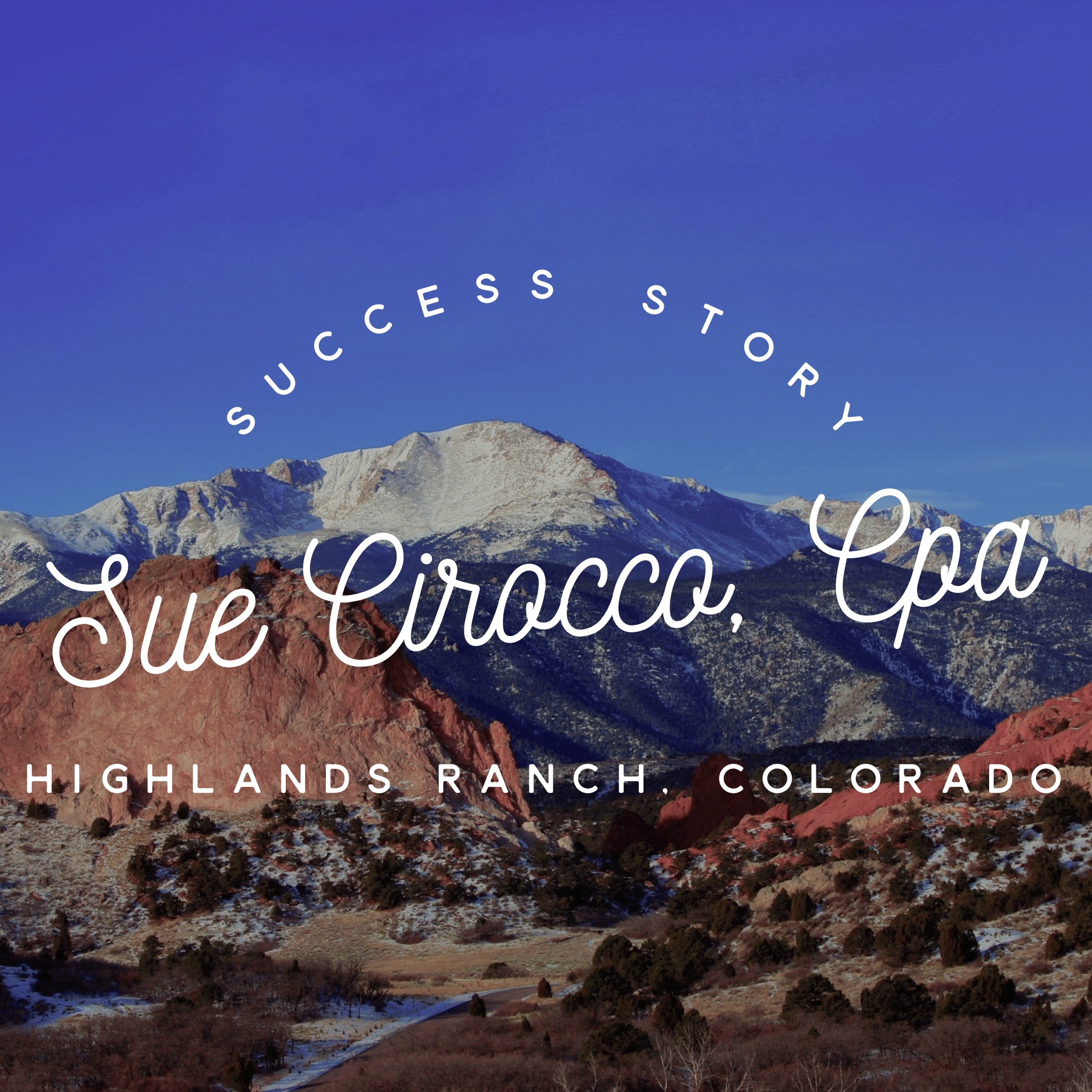 Sue Cirocco, CPA, MBA, CO
Monday, January 1st, 2007
$120,000 in annualized billing in only seven and a half months
Sue Cirocco had been a corporate controller for some 20 years, but always wanted to be in her own practice. Being a single mother to four children would not allow her to pursue that dream until just recently. After getting married again and having two of the kids out of the nest, Sue felt it was time to pursue that dream.
Sue, being a resourceful person was scouting various accounting journals when she came across NCI's ad of a guy sitting behind a desk with cobwebs all over his phone. "That was me," Sue said, referring to the solemn accountant pictured in the ad. "I realized I was not very good at sales and marketing and after contacting NCI, I felt your approach to developing a practice was a perfect fit." Sue originally attended our Practice Development Seminar (Plan I) in August 2001, but indicated she did so with the idea in mind to sign up for Plan III. During the seminar she was exposed to Duane Gravley's training on practice management and processing and realized she was going to get a lot of clients from the marketing plan so she better be capable of handling them. "I wanted to make sure I could handle all the work, that's why I opted to upgrade at the seminar to Plan III."
Chris: Was Duane's training helpful?
Sue: "It was invaluable. I got to see his operation first hand and speak with his bookkeepers. I could see how systematic his approach was to doing write-up work."
Chris: Were there any problems during the initial phase of the marketing program?
Sue: "Yes, our first client service rep quit after ten weeks even though he was producing, then NCI came out and hired and trained our present CSR. Since that time our new CSR, Donna Gearing, has double the productivity of our first rep. We are at $120,000 in annualized billing in only seven and a half months."
Chris: I asked Sue what has been her toughest obstacle.
Sue: "Getting the right people to do the right jobs. Duane's system for hiring and compensating the bookkeepers was a great help in this area, and of course, NCI's help in selecting and training my CSR and telemarketers."
Chris: What about future plans and goals?
Sue: "My original goal was to have a $1,000,000 practice in eight years. I now know that is possible sooner, say in five years, so that's my new goal."
Chris: Any parting words of wisdom?
Sue: "Yes. Don't underestimate the need for a good sales and marketing program. I wouldn't have the growing business I do without one.
Chris: Thank you Sue, and we concur, continued success to you, Donna and the rest of the team at Century Tax and Accounting.
---
Note: In 2007 Sue made the decision to sell her practice and after only six years sold it for over $600,000.
---
Chris Clark is the oldest son of New Clients Inc. founder and CEO Bruce Clark. He has worked as a Senior Account Executive at NCI for the past four years. During that time he has presented at the Practice Development Seminar on Internet and E-mail marketing and he also plays the prospective client during the seminar role play sessions. Chris also edits and contributes to the NCI newsletter, New Client News.