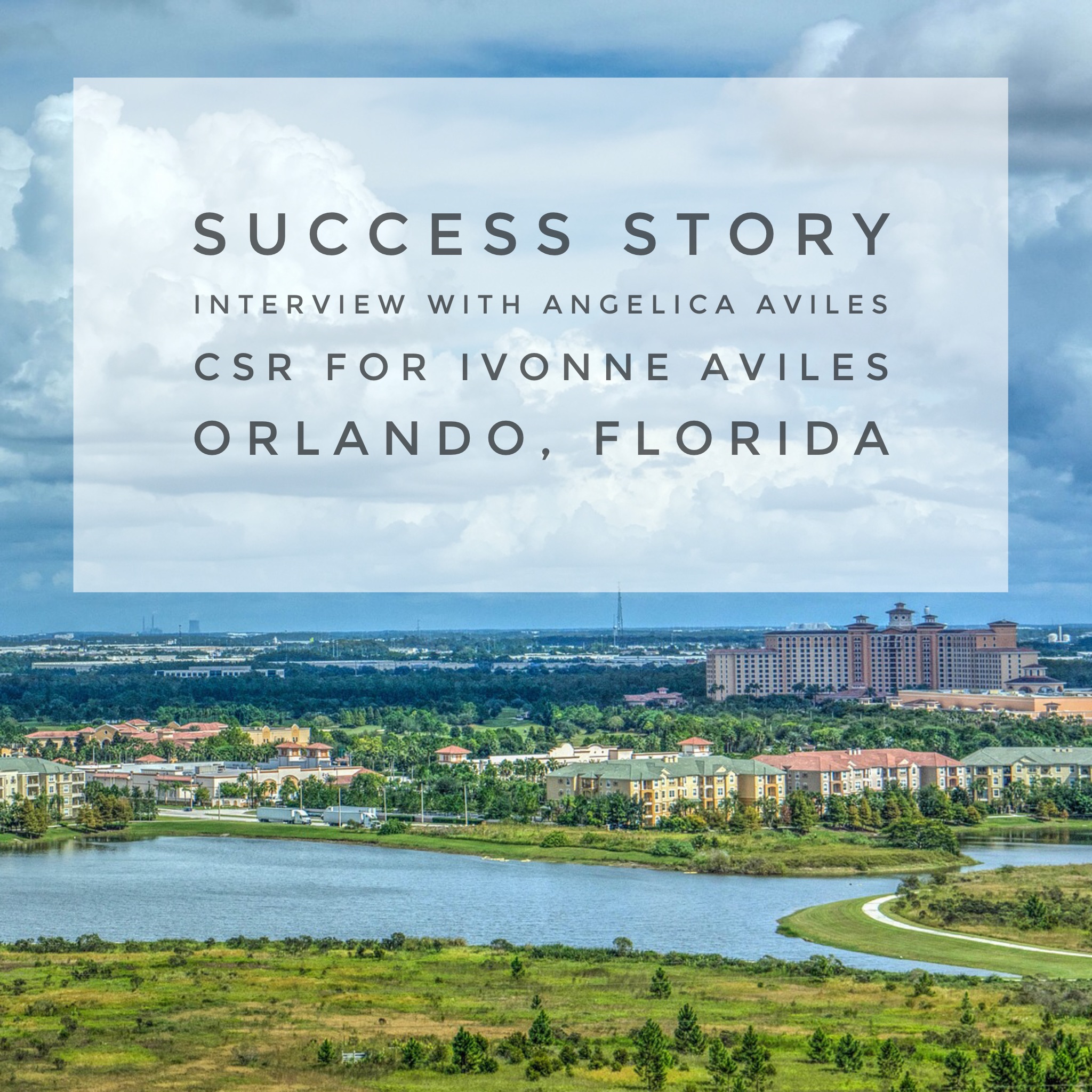 Angelica Aviles, CSR, Orlando, Florida
Monday, June 9th, 2008
All in the Family
This month in our success story column we are trying something a little bit different. In order to give a different perspective on one of NCI 's many success stories, I have interviewed the salesperson instead of the accountant. I interviewed Angelica Aviles, the CSR and sister of NCI client Ivonne Aviles located in Orlando, FL. Another interesting aspect to this story and one that I can personally relate to, is that these are family members, two siblings specifically, who work together. I work for my father so I know the joy (and tribulations) of working with family. Ivonne undertook the Plan 2 program with NCI about a year ago, as is sometimes the case; the CSR who was initially hired needed to be replaced eventually. Instead of going through the hiring process again with an unknown, Ivonne decided to hire her sister to market the firm. This turned out to be a good decision, as Angelica has consistently been among the top five candidates of our salesperson of the year contest. I got to chat with Angelica about selling accounting services and how things have been going for her so far. What follows are excerpts from that interview.
---
Chris: Tell me about your background.
Angelica: I went to UPR (The University of Puerto Rico). I actually went in for theater. To be honest with you, I just wanted to be famous, to be on a stage, an acting type of thing. So I started going like that but I ended up with a bachelor's degree in social work/social science. That's what I have, with a minor in psychology. So that's how I finished my bachelor's degree in college and I actually have been working well with people forever. When I look back at my grades from college, at my transcript, I see that all my good grades were in group dynamics, psychology, humanity anything that has to do with people and interaction. That was my forte' when it came down to math. That's why I'm not a CPA. Numbers when it came down to it, were my enemies, so I ended up doing social work for ten years. That's how I actually started working with people, working with children at the Head Start program. I worked with the elderly at a nursing home. I already had that background and I knew that I could work with people and I always liked to be up front, talking, doing conferences with people. I was kind of burnt out, because there are a lot of things people demand from you, so I said I think it's time for me to switch to something that gets my adrenaline and gets me going, something that's a challenge for me that I have to conquer, something different. So I decided to start selling picture frames door to door and I got many people kicking me out, screaming at me I'm going to call the police, but it was like [I was taught] for every ten no's you're going to get one yes. So I started doing that and was pretty successful, but it wasn't really fulfilling everything that I wanted. So I applied at World Gym, I started as a fitness consultant at the gym health club and I was there for three years, from fitness consultant I was promoted to a sales manager and then I was promoted to general sales manager. At this point, my sister who's the CPA, Ivonne, I was at the gym at the time when she opened up her business. She always knew that she would like me to work for her someday because she knew that I can probably help her. But you know, I said I don't know anything about accounting, how am I going to sell it? I don't know anything about accounting so how am I going to answer when they ask me? But for me it was like you don't have to know anything, just know the objections and how to handle them and that's all you need. So I kept going and she opened up her office and I started out doing telemarketing for her and now I'm the CSR.
Chris: What did you think of the training you received from NCI ?
Angelica: Well the whole NCI program was a very new thing for me. When Ana told me about it she told me what kind of program it was and for me it was cool because I knew I was going to have somebody there if I had any questions. The whole system that NCI put together for CSRs and for the CPA in general is so complete for me, everything is where it has to be to make it work. You have the CPA, the head of the company, you have the telemarketer's setting the appointments and you have all the scripts and all the materials that everybody needs to learn how to make that sale. So just having the whole thing in place, everybody is needed to make it work; it's a very organized complete program. When I went to the seminar it was a pleasure for me meeting Bruce [Clark, NCI 's CEO] and I would love to meet Wayne [Minks, NCI head of service and support] in person because I always talk to him on the phone and I have learned a lot from him, believe me. He gave me some tips that I use that are the greatest ever. But it was a pleasure to meet Bruce, I didn't know who he was and when he told me I was like, so I'm meeting the president, I'm meeting somebody that actually put the program together and that actually came up with this idea and actually is making it work. Seeing somebody that's so successful and organizing something for other people to make them successful it was a great honor for me. So at the seminar, just meeting the people, being able to listen to some people talk about their success with the program, I took notes and it has been very useful for me. Every time I have a question I call Wayne , the NCI trainings that you have on Monday, just everything the whole program, I can say it's a success, a very, very, very good program.
Chris: Tell me more about your interactions with NCI 's head of service and support, Wayne Minks .
Angelica: When he started working for NCI in charge of the support department, I will say he sent us a memo saying my name is Wayne , if you have any questions please call me. I took the opportunity right away to call him and see what he had to say because if you're going to be a coach and head the support department for NCI you must know what you're doing. So I called him and told him that I needed some hints to try to make things happen because I was new doing this and I needed somebody to give me some feedback or push me or motivate me. I have to always work like that, I like for people to motivate me and give me pride for the things that I do. When I talked to him he actually took the time and that's one of the most important and valuable things to me, he took the time to meet with me over the phone. He gave me an insight into how I should present myself when I talk to the owners. How I have to rephrase myself to show them that it's important to have somebody holding your hand and [giving] financial advice. When I actually used what he taught me I was surprised, because I remember he told me, Angelica, I will bet you that if you do what I am telling you to do, at the end of your presentation when you tell them the price, the prospect will say "oh, is that it?" and I said yeah right Wayne, and I told him, if somebody ever tells me that I'm going to call you right away and I started laughing. Okay, so that's exactly what happened. The week after [talking to Wayne] I went to a presentation and I did it exactly, so I was talking to this person but I'm actually using the techniques, making the business owner feel good, asking for a tour [of the facility] then I explained all of the services, and used the agreement as a tool to close the sale. Wayne told me that, use the agreement and go point by point, at the end of your presentation the person is going to be anxious for a quote and the person is going to be creating numbers in their mind, saying they're going to give me so much service, this is going to be really, really expensive. So when I gave him the quote, he looked at me and he just said, "Is that it?" And I was like, what the…? I was like oh my God. And of course the first thing I did after closing the sale was to call Wayne . But it's so important to have Wayne as a support system.
Chris: Has not having accounting knowledge held you back at all trying to sell the service?
Angelica: No, it's better not to know! It's about making them see the value of the things that we are going to do for them, so they are successful, so they are well taken care of, so they have someone there to help them with any financial decisions that they have to make. That's one of the jobs the salesman has to do, they have to create the value of the services. And if they have any questions, I think Wayne taught me this also, when they are asking you an accounting question and you don't have an answer, you say that's a great question, and that's a question that you're going to ask Ivonne in your first meeting with her. And you keep bringing up that follow up meeting with the accountant and then they are excited for that to happen.
Chris: What is it like working for your sister?
Angelica: People ask me that and in that aspect we have different personalities when it comes down to the professional field. We have different personalities, I am the people person and she is the numbers person. So we respect each other for that, she knows I have expertise in my field and I know she's the expert in her field and we compliment each other.
Chris: How much business have you helped Ivonne ad since coming on board?
Angelica: I'm looking at the paper, because I actually put it on my wall, the sales race update, the one I'm looking at now from two months ago it says here that the total amount of money I brought in so far is $61,465, the total for January, February and March [this number for Angelica is now up to $73,475 and she is currently in 4th place in our nationwide sales race.]
Chris: Angelica, I would like to thank you on behalf of NCI for taking the time to talk to me about your sales experience. I'm sure Ivonne is very happy to have you on board. Be sure to keep up the good work and as you know, if you need anything feel free to contact us.
---
You can contact Angelica Aviles at (407) 228-7333
Chris Clark is the oldest son of New Clients Inc. founder and CEO Bruce Clark. He has worked as a Senior Account Executive at NCI for the past four years. During that time he has presented at the Practice Development Seminar on Internet and E-mail marketing and he also plays the prospective client during the seminar role play sessions. Chris also edits and contributes to the NCI newsletter, New Client News.