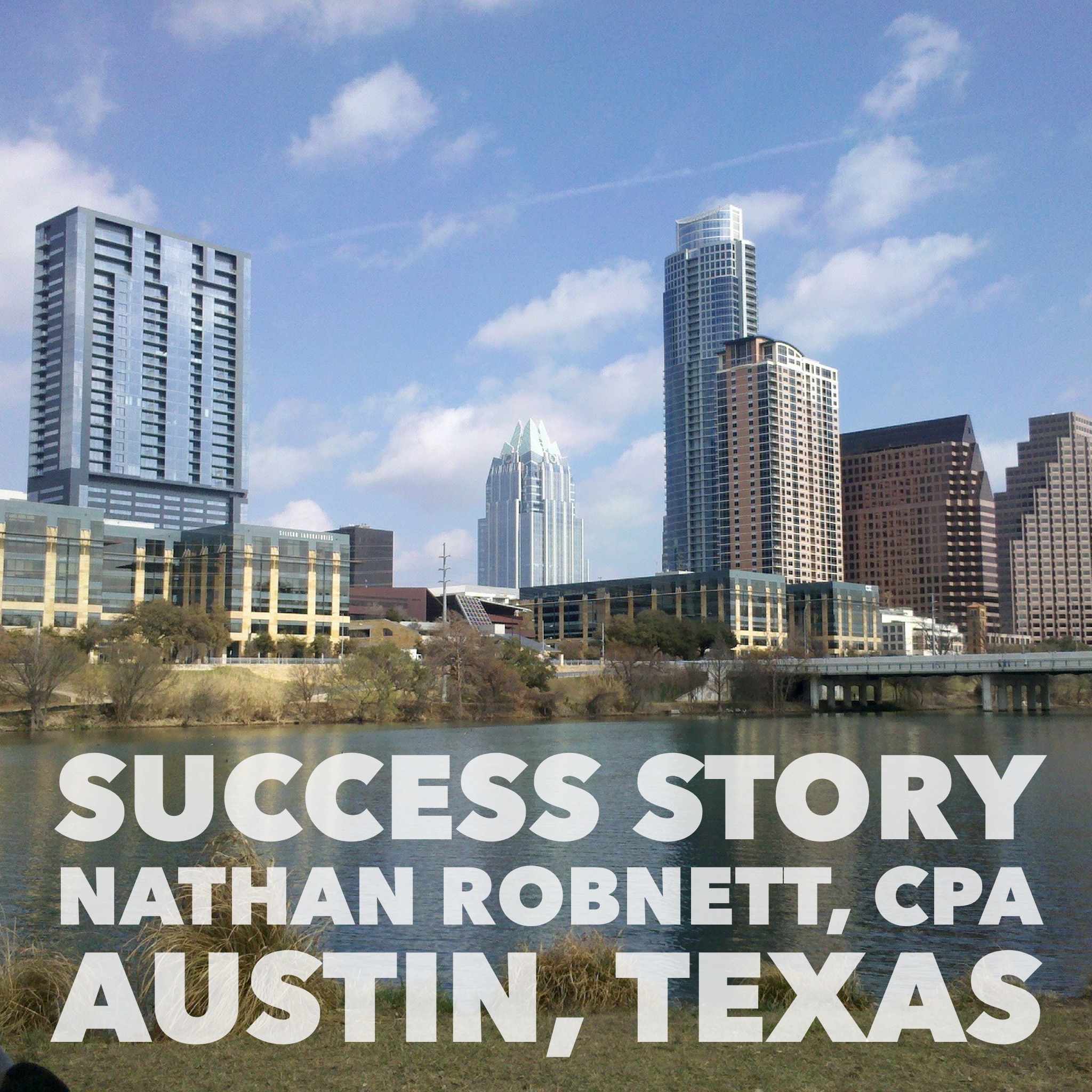 Nathan Robnett, CPA, Austin, TX
Monday, January 1st, 2007
Success Story – Nathan Robnett, CPA
In Fall Issue 2001 of New Client News, our featured accountant is a CPA from Austin, Texas. In 1995 Nathan Robnett was a corporate accountant working for Dupont. While working for Dupont he had also been planning to either start his own practice or purchase an existing one.
After looking at buying a few practices, none of which appealed to him, he opted to build his own, and contacted NCI to help him achieve his dream. He decided to go with Plan II, our Client Acquisition Program. "Starting my own practice was very appealing to me. The practice would have my thumb print on it; it would have my personality and not someone else's. These would be my clients."
When he began operation, Nathan was living in Orange, Texas and commuting home on the weekends. After eight months he purchased a home and moved to Austin permanently.
I asked Nathan, in getting started what was his greatest challenge? He stated, "Prospects would ask for references and because I was new in practice, and in town, I didn't have a lot. I found I could use friends and family members to vouch for me; also, keeping the pipeline filled with new prospects. There were months things were great, then we'd hit a slow down. We had to learn to adjust as we went along and to be persistent."
Where is your practice today in terms of billing? "We are on track to do $800K this year." When discussing highlights of his practice development journey, Nathan said one of his greatest moments was after his first 90 days in practice, the firm was not only breaking even and covering all operating costs, but providing an income for him as well. "I didn't have to use any more savings after that point, everything was paying for itself." I asked Nathan what words of wisdom he could impart on the thousands of CPAs, EAs and accountants that would be reading this article. "The NCI program works really well, but you must be 100% committed to making it work. A 100% commitment will produce 100% results."
No doubt, as we have seen from a man who went from 0 to 800K in only six years. Thank you Nathan for your time and thoughts. Continued success to you and Shannon.
You can contact Nathan Robnett at (512) 258-8584.
---
Chris Clark is the oldest son of New Clients Inc. founder and CEO Bruce Clark. He has worked as a Senior Account Executive at NCI for the past four years. During that time he has presented at the Practice Development Seminar on Internet and E-mail marketing and he also plays the prospective client during the seminar role play sessions. Chris also edits and contributes to the NCI newsletter, New Client News.