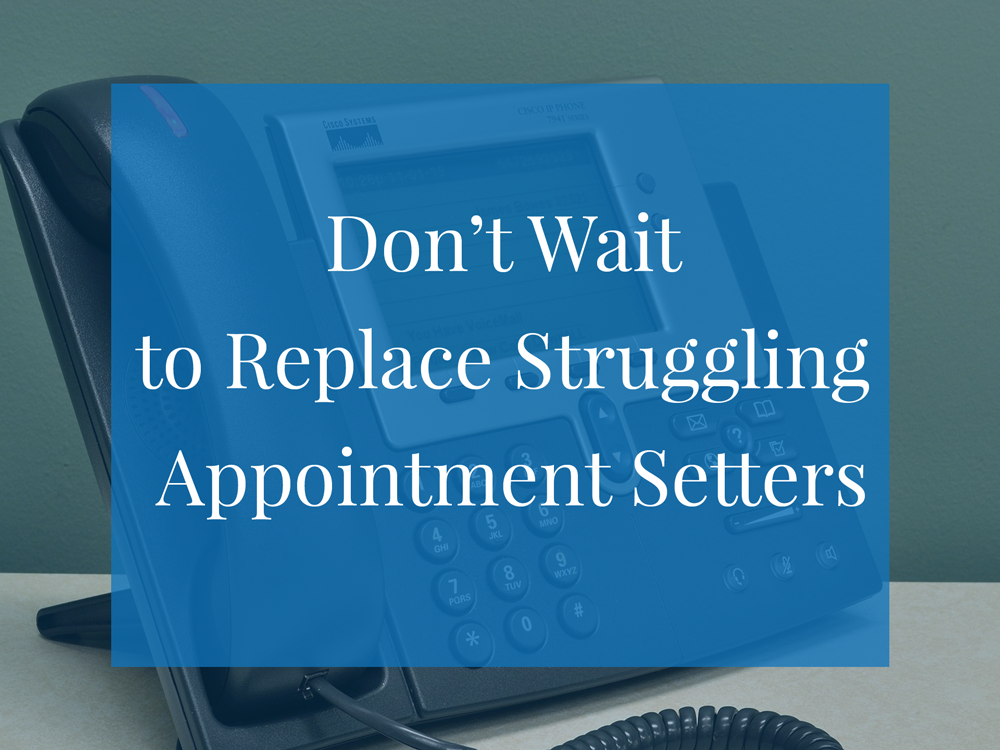 Don't Wait to Replace Struggling Appointment Setters
Monday, April 11th, 2016
As has been said many times in this newsletter, the appointment setting portion of the NCI marketing program is typically the most challenging aspect but also incredibly crucial. It all starts with the appointment setting effort because without those opportunities with interested prospects, your marketing effort will fail to launch for obvious reasons. One thing I have noticed in supporting our clients who are struggling with appointment setter issues is that they are often reluctant to let an appointment setter go and start the process of hiring over again. While I can certainly understand that this process can be tiresome, the importance of finding quality appointment setters who can produce consistent results cannot be understated. The marketing program works, we know this from 30 years of practical experience and application in various markets large and small around the country. The key to making it work for you is finding the right people to implement it, something NCI can and does help with. This help only extends so far when it comes to appointment setters though because finding and hiring them is far from an exact science.
This reluctance to go through the hiring process is also understandable because most people don't like having to fire someone and also don't like having to run ads and conduct interviews again but this is all a part of the process. All one usually has to do to get inundated with appointment setter candidates is run NCI's appointment setter ad on craigslist.com. This is usually sufficient and is either free or very inexpensive. Other ideas are to post up NCI's appointment setter flyer at local colleges, coffee shops, churches and anywhere else that might have a job board to post opportunities. When it comes to sales and marketing, results are paramount and appointment setting is no different. Your appointment setter(s) should be able to secure at least one appointment during the majority of their four hour shifts to warrant keeping them on staff. If they are unable to do so consistently, the first step is to let them know their performance is not where it needs to be and try to find out why this is the case. The most common reasons I see that appointment setters are struggling are, they are not following the script closely enough, they are not attempting to handle objections during calls and/or they are not asking for the appointment as scripted (directly and assertively.) These problems are easily addressed through observation to detect them and then roleplaying to correct them. Once the issue(s) have been addressed with the appointment setter and some coaching has been offered, if results don't improve quickly, over approximately the next two weeks, it is time to make a change.
The unfortunate nature of the appointment setting position is that it is a high turnover position. It's part time, it's low pay, and above all, it is a very difficult job that many people are just not cut out for. It's better to determine if your appointment setter is one of these people sooner rather than later because if they are not generating good results today, the chances of them turning it around and improving are low. It's better to cut your losses and try again than it is to keep going with someone who is not generating consistent results. Being vigilant in this key area will keep your losses to a minimum and put you in a position to find the right people to make your practice soar.
---
Chris Clark – Executive Editor, NCN
Executive Editor, New Client News and Client Support Services
Chris is the oldest son of NCI CEO and founder, Bruce Clark. He graduated with a Bachelor's degree from Loyola Marymount University in Los Angeles, CA in 2005. He has worked for New Clients since April 2006 filling a variety of roles including Senior Account Executive, client support specialist, executive editor of and contributor to the NCI newsletter, New Client News and appointment setter evaluator. Chris also helped Bruce edit his two books, NCI Effect which came out in 2011 and Beyond the NCI Effect which came out in June 2015.