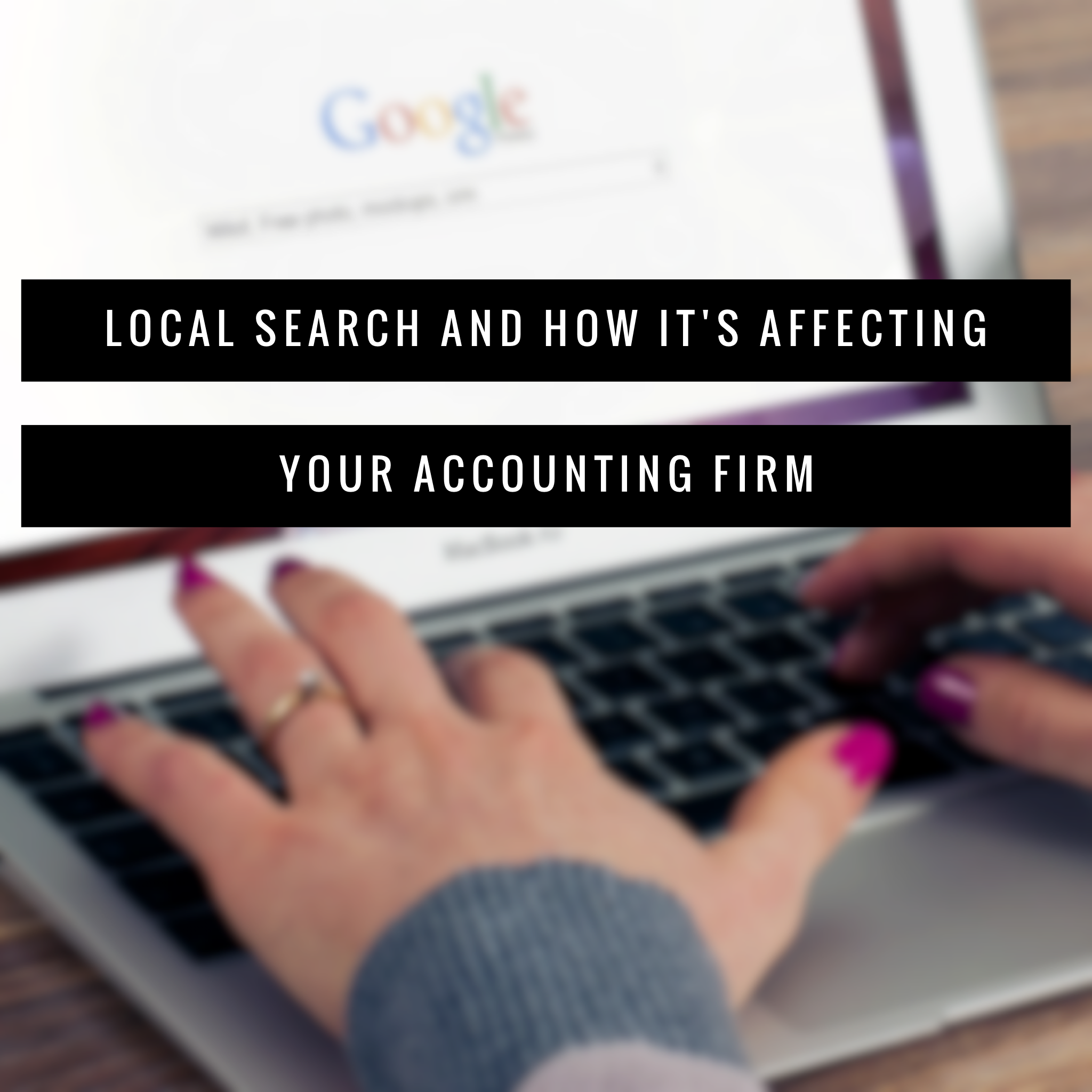 Local Search and How It's Affecting Your Accounting Firm
Thursday, June 2nd, 2016
Remember the commercial that repeatedly interrupted your favorite television show last week? Chances are you don't – because we've trained our brains to tune out what isn't relevant to our immediate surroundings and needs. It's estimated that we are bombarded by the equivalent of 174 newspapers' worth of data a day. If we didn't filter out most non-essential messages, we couldn't function.
Does this mean advertising is dead? No, but it does mean that service providers, including accountants, need to change their traditional marketing approach. By using internet searches to your advantage, there is a way to get in front of prospective clients in that fleeting moment where you'll be seen as a solution and not an interruption. The key is search engine optimization (SEO).
Simply put, SEO brings visitors to your website by helping your practice appear high on the list of results when prospective clients search for an accountant online. Over 85% of searchers do not go past the first page of results, so where you appear is critical. As far as SEO is concerned, if you're not on the first page, you may as well be on the last.
CPA Site Solution's latest publication, Local Search and How It's Affecting Your Firm, breaks down SEO and all that goes into it. From search engine crawlers and algorithms to keyword density and metadata, this whitepaper outlines the basics in a manner you can understand. Looking for a quick overview? Read on for some highlights.
Keywords are at the core of SEO. These are the terms search engines use to find and rank your firm. Though your services are important keywords to include on your website, don't forget to include your firm's location. Since the average client isn't going to travel hundreds of miles to visit an accountant, chances are they will limit their search to providers in close proximity. Therefore, to attract local prospects, your website must be associated with your geographic location. This type of SEO is known as local SEO. And the backbone of successful local SEO is optimization, both on-page and off.
Just as the name implies, on-page optimization refers to changes made directly to your website. The most visible area for on-page optimization is website copy. When writing copy, remember to use phrases that prospective clients would use in their online searches. This allows search engines to correctly categorize your website, increasing the number of times your practice comes up in relevant searches. In addition to copy, on-page factors include HTML tags like page titles and meta descriptions. (Did we just lose you? Don't worry, our whitepaper includes a handy glossary.)
Backlinks and business listings are two off-page optimization strategies that take place outside your website but still impact your search engine ranking.
Backlinks are hyperlinks on other websites that connect back to your site. This may seem like a quick way to bump your ranking, but beware – Google considers context when giving you points for backlinks. This means that backlinks on irrelevant sites negatively impact your ranking.
Business listings are another type of off-page optimization that can not only drive traffic directly to your website, but also affect your search ranking. While it may seem obvious, consistency and accuracy are the two most important elements to optimizing your business listings. Your practice should be in a number of professional directories so be sure your NAP data (practice name, address, and phone) is correct and identical across all listings.
Creating an SEO strategy for your firm may seem overwhelming, but neglecting it can be hazardous to your professional health. A good place to start is by downloading Local Search and How It's Affecting Your Firm. Written for busy accounting professionals, this free whitepaper walks you through the basics of SEO and provides tips you can put to use today.
Still not sure you're ready to tackle SEO on your own? CPA Site Solutions has you covered. Let our in-house team of SEO experts handle it for you. For more information, call (800) 896-4500.