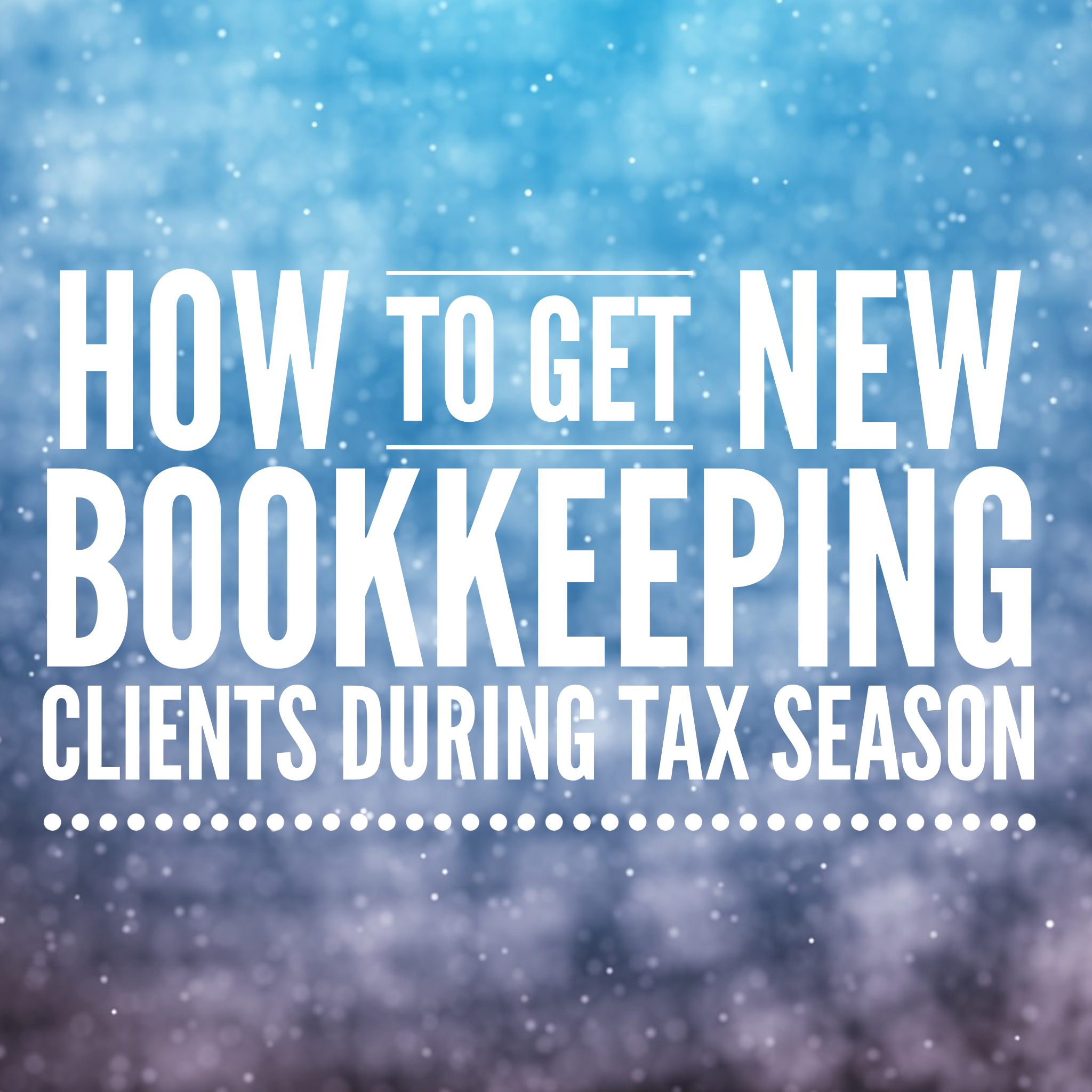 How to Get New Bookkeeping Clients During Tax Season
Thursday, January 12th, 2017
Probably the last thing on your mind during tax season is new client acquisition. If you've had to hire seasonal staff and are still working evenings and weekends, it may seem like you have more than enough clients to handle.
While that might sound good, the fact is that for the remainder of tax season, you will have a steady stream of people coming through your door. For many of them, it will be the only time you see them all year. Why would you pass up this opportunity to educate them on all the other services you offer besides tax filing?
Referrals. Remember that everyone you see at this time of year has their own network and community. Even if they don't need small business bookkeeping, they may have family and friends who do. Since they already trust you enough to handle their taxes, they're probably a good source of referrals.
Appearance. We all know the old adage that first impressions are lasting impressions, so before the rush starts, make sure your office and entrance way are in good shape. Check your signage to make sure people can find you easily. Fix any loose door handles or missing light bulbs. Invest in a new dried flower arrangement for your reception area – a nice fresh spring one to replace the one from before the holidays.
Communicate. Your marketing process can start with something as simple as newsletters and brochures in the waiting room. Cover a wide range of topics and services you offer, such as wealth management, estate planning and payroll processing. An eye-catching headline on a bright brochure might come to someone's mind the next time they hear the subject being discussed.
Logo Items. Another good idea is to have some promotional items available for handing out with tax packages. Pens with the company logo and telephone number on them can be given away when your client signs their return. The great thing about pens is that they have a wonderful way of traveling and spreading the word about your firm.
For your larger clients, travel mugs or golf shirts can be given as a "thank you for your business" gift. They not only carry your name, but can also soften the blow of a higher tax bill. You could also pass out some "free consultations" or "refer a friend" incentives. Partner with another local business to supply gift certificates or discounts: "Refer a friend for bookkeeping services and receive 50% off dinner for two." It's a win-win for both of you.
Website and Social Media. Of course your online presence is a big part of your marketing too so check that your website is in good shape. Your contact information and hours of business should be up to date. Check for broken links. Be ready for an increase in web traffic as well as foot traffic because you're driving people to your site with all your tweets, posts and blogs, right?
"What?! Do you think I've got time to be playing around on Facebook at this time of year?"
Make time for it because it's "The Most Wonderful Time of the Year!" 'Tis the season when your profession is front and center in everyone's mind. When else will #taxes be trending?
Schedule posts and tweets about tax tips ahead of time. Social media users are generous folks who love to share and pass on knowledge. A tip about a lesser known deduction or credit will get a lot of shares and retweets.
Consider contracting out your social media during tax season. Just don't give it to your teenage son. A professional content manager can help devise a strategy for engaging and growing your audience.
With only a little effort, you can capitalize on the attention you're getting now to grow your practice throughout the rest of the year too.
Todd Steinberg