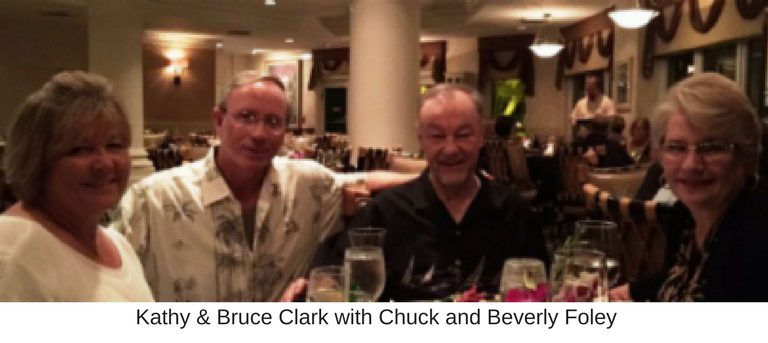 A 1.7 Million Dollar Payoff for Entrepreneurial CPA
Thursday, April 6th, 2017
Twenty Seven years ago Chuck Foley was a CPA working as a corporate controller for Prudential Insurance Company. He was making good money, over six figures at the time, but dreaded going to his job every day. One day he picked up a copy of the Journal of Accountancy where an ad caught his eye. In it was a graphic of two rats racing up a ladder, one behind the other. The caption read, "Tired of The Corporate Rat Race?" The ad was for a revolutionary marketing program from a relatively new company called New Clients, Inc. In that ad Chuck saw an opportunity to improve his situation and he signed on with NCI soon after, starting what would become a long and fruitful business relationship. Over the next several years Chuck built his first firm in New Jersey from the ground up using the NCI Plan 2 marketing program.
Ten years later Chuck decided to move to Phoenix, AZ because his parents and oldest son were living there. Chuck called on NCI to help sell his practice and establish a new firm in Phoenix. Once again, NCI delivered. With the help of a robust Phoenix market and another NCI Plan 2 Client Acquisition Program, Chuck's new firm exploded and grew to around $500,000 in only 5 years. Chuck continued to run that firm with the help of his wife Beverly, she handled the front office duties, while other very capable staff members worked side by side with Chuck to process all the work that was being generated. As the years rolled by Chuck became restless, while his entrepreneurial spirit stirred within him but this time he wanted to try something outside the field of accounting. Again he called on NCI to help him sell his firm and we found a buyer within days, structuring an all cash sale in the process.
Chuck then entered the field of franchise consulting and sales and after a year of less than stellar results decided he should do what he's always done best. He and Bev began building another CPA firm, this time in Scottsdale, AZ. Success seems to follow this man wherever he goes and within a few years he'd built another firm grossing about $490,000 per year. Now, 28 years after I first met him, Chuck contacted me to help him with his third and final practice sale as he prepared for semi-retirement at the age of 67. Within two weeks I had found him a qualified buyer.
I want to take this opportunity to publicly thank Chuck and Beverly for being consummate professionals who are always such a pleasure to work with. Chuck's building and selling of three separate firms with NCI help is a milestone no other NCI client has achieved to date. He has done so with diligence, patience and the rare ability to be firm yet fair in his business relationships. While we were having dinner recently in Fort Lauderdale celebrating what will probably be his final sale, although you never know with this guy, he told me and my wife a story that I think sums up his and his wife nicely. After this first sale, the CPA who bought the firm was going to lose a large client that was sold as part of the deal. Chuck had told him this client may not stay once the transition occurred. When he and Bev learned that had in fact happened, they both agreed a refund for the value that client represented to the firm was in order. They did this not because they were obligated to, but because "it was the right thing to do." This type of honesty and integrity seems so rare today in business but it also explains how a corporate accountant could start and build three accounting firms from scratch over a 27 year time frame, resulting in approximately $1.7 million in sales. To Chuck and Beverly, my wife Kathy and I, along with the entire NCI staff would like to thank you for being such loyal clients and wish you both years of health and happiness in your retirement.
Click here for Chuck's video testimonial.
Bruce J. Clark, CEO
Author, NCI Effect, Explosive Client Growth Plan for Accountants and CPAs
Beyond the NCI Effect, Sales Strategies That Matter to Grow an Accounting Practice
PS. Is this your last tax season? If yes, call 1-800-338-0778 before May 1st for a free valuation of your practices worth and how we can help you sell one of your most prized assets.