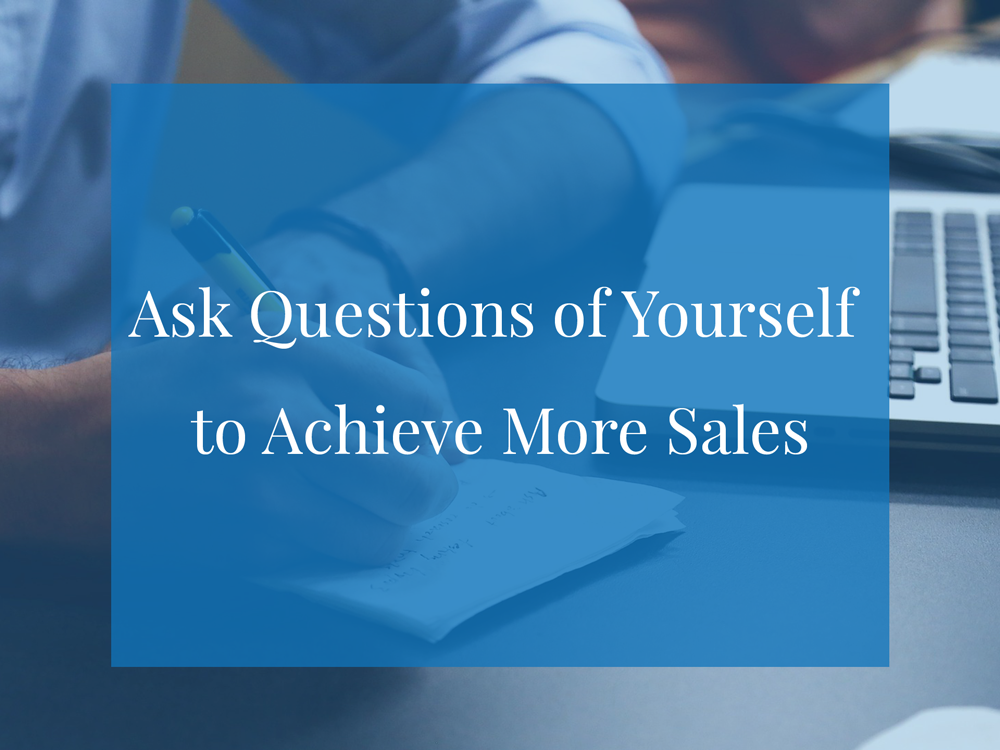 Ask Questions of Yourself to Achieve More Sales
Monday, April 11th, 2016
Be prepared. Do some research on the business and the industry that business falls under before you go to make the sales call, doing so will help you build rapport with the owner and give you things to talk about. It will also help to position you as more of an expert.
Do you know who your main competitors are? How will you address them if they come up? Be ready with things that set your service apart from the competition. Be aware of the competition and what they are doing, especially if they are successful.
Do you qualify well? Are you confirming all decision makers will be present before you arrive? Always make a point to try and do this as it will help you make more sales in less time since missing decision makers will be used as a delaying tactic in making a sale.
Are you asking the right questions? Uncovering your prospect's problems and then presenting solutions to those problems is the key to making all sales. You should ask about their current accounting situation and any problems they are encountering in areas of accounting, finances and business.
Are you using trial closes throughout your presentation? Trial closes basically amount to getting a prospect to agree with you by asking questions that are hard to say no to. Some examples, "Don't you agree focusing on your business instead of your bookkeeping is a better, more effective use of your time?" "Would you be interested in savings hundreds if not thousands of dollars on your taxes?" Who's going to say no to that?
Are you prepared to respond to objections? Have you studied and memorized the various objections and rebuttals provided to you through your NCI training? Too many CSRs I talk to do not do enough of this and it hurts their results. Each rebuttal is meant to be used in a specific scenario so it's not just knowing them but knowing when to use them that is important.
Do you ask for the sale more than once if necessary? Remember that the answer is always no unless you ask and sometimes you have to ask several times to get an answer. If someone is on the fence about making a decision and committing, don't forget to utilize NCI's "West Coast Close" which includes a 90 day money back guarantee to help put their mind at ease that working your firm is the right choice and you're willing to back it up with a guarantee of quality service.
Do you have a solid follow up system for TIO's? Infusionsoft is the only all-in-one sales and marketing software built just for small business. By integrating CRM, e-commerce, social media and email marketing into a single, powerful system, it helps you simplify marketing, grow sales and save a ton of time. NCI and our affiliate accounting and tax service both utilize this excellent software to further our marketing, sales and contact management goals. NCI has an Infusionsoft Certified Partner on staff and can help you implement this powerful tool into your practice.
Do you have a database set up for all those who said no? Situations change for people every day. The business owner who said no six months ago may have just had it out with his or her accountant. Periodically contact these prospects letting them know your company is still available to meet their needs and help them achieve their financial goals. Tracking your marketing successes and failures is critical to helping your strategy evolve. Infusionsoft will help you turn more no's into yes's with email drip campaigns to targeted lists of prospects.
Have you established clearly defined goals? Most people never reach their full potential in life because they don't set clearly defined goals to reach it. Have you taken this crucial step to success? If not, better get started by writing down a list of exactly what it is you want and when you want it by. Keep this list visible as a reminder of what you are working towards and to track your progress.
---
Chris Clark – Executive Editor, NCN
Executive Editor, New Client News and Client Support Services
Chris is the oldest son of NCI CEO and founder, Bruce Clark. He graduated with a Bachelor's degree from Loyola Marymount University in Los Angeles, CA in 2005. He has worked for New Clients since April 2006 filling a variety of roles including Senior Account Executive, client support specialist, executive editor of and contributor to the NCI newsletter, New Client News and appointment setter evaluator. Chris also helped Bruce edit his two books, NCI Effect which came out in 2011 and Beyond the NCI Effect which came out in June 2015.