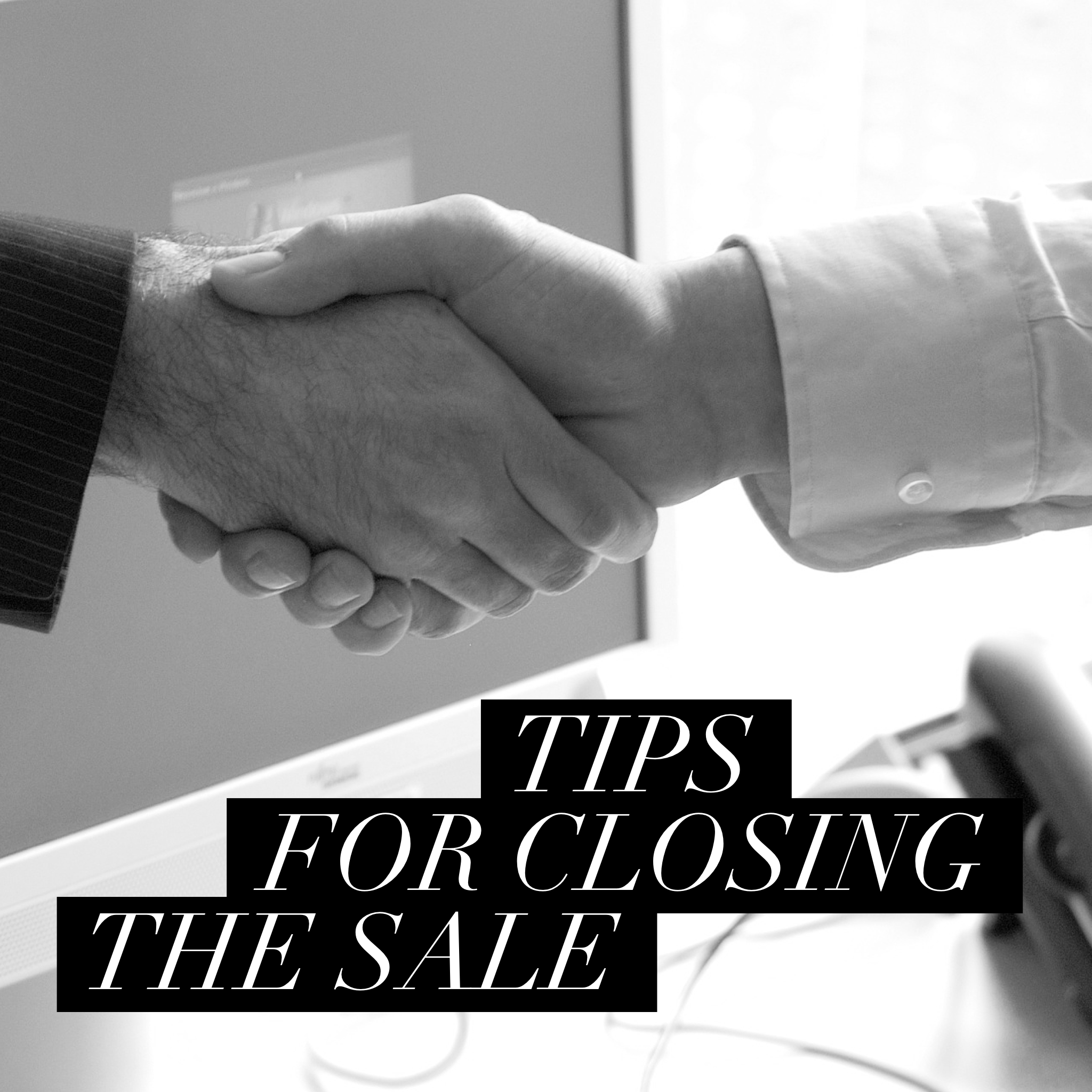 Tips for Closing the Sale
Monday, June 20th, 2016
Closing a sale — getting your prospect to say yes — can sometimes be as easy as asking for the commitment. Once you've laid the foundation by qualifying your prospect, discovering their needs, and showing how your product/service meets those needs, it's time to ask for the order. These tips can help you make this process easy and natural.
Lay the proper groundwork
During your sales process, if you have found out what the prospect's needs are and have helped them to recognize that what you are selling will meet those needs, a "close" in the traditional sense should not be necessary. If you are frequently wondering how to close, you should probably examine your methods for uncovering your customer's needs and demonstrating the benefits of your firm's services in response to those needs.
Reach the decision maker
Make sure you are speaking with the person who makes the buying decisions. Sometimes a person won't say "yes" to your product or service because they're not authorized to do so. If this is the case, find out if there is anybody else that gets involved in this decision that your prospect recommends you speak with. It is best to uncover this in advance and make sure all decision makers are present during the sales presentation, whenever possible.
Provide a deadline
If you have a customer who is vacillating, one way to close is to tell them that your service will not be available past a certain date. For example, if a client says they are interested in hiring your firm but cannot make a commitment, set a deadline date or say that you will be unavailable for a certain amount of time. This is high risk because it can mean that you won't work with this client in the near future. However, it will also separate live prospects from prospects that are likely to drag on forever without making a decision. Forcing a decision, one way or the other, is good for your business. If they decide not to buy, it frees you to pursue other opportunities instead of chasing a dead-end.
Work back from the date they need it
Find out when your customer needs the product or service you are selling and then work back from that date to make a case for why closing now is important. For instance, in your accounting firm, you would want to know when your prospect needs to file the proper state and federal tax returns. You could then explain why they would need to hire you now to ensure they do not end up paying more in penalties and interest for late filing if they delay. Also, if they have back work and back taxes that need filing, remind them that those types of problems only get worse with each passing day and the sooner you can help them get their issues sorted out, the better for them and their business.
Use the threat of a price increase
If your firm plans to raise prices in January, start calling people in October to get them to buy before the price increase occurs. Positioning here is critical – remember that you are calling to provide a service to your prospect, not to intimidate them into buying. Avoiding the price increase is a nice bonus that will motivate people to sign up for your service when they might not have done so otherwise. Not only will this help you close, but your prospects and clients will appreciate the advance notice of the increase.
Talk about the implication of not moving forward on a sale
Ask questions in order to get your prospect to say what it would cost them if they didn't buy your product. Cost doesn't necessarily correlate to money, it can also mean time or reputation, among other things. Fear is a powerful motivator, don't be afraid to use it to your advantage, within reason. Many business owners fear the IRS and what they can do to a business that is not properly paying taxes. Ask the business owner what keeps them up at night and then use that information to your advantage by offering one of the best benefits your service can provide, peace of mind. Doing so will go a long way towards helping you sign more clients and grow your business.
By Todd Steinberg
---
Todd Steinberg, Executive Vice President of Sales and Marketing
Todd Steinberg offers more than 20 years of experience emphasizing sales, marketing and business development in the industry of marketing accounting services. The scope of Todd's experience has spanned virtually all aspects of the accounting practice marketing industry. A respected leader in the industry, his experience includes developing new marketing strategies, NCI program sales, integrating financial planning and payroll services into accounting practices, providing sales and marketing support to NCI's 4,500+ clients, hiring and training of marketing personnel for accounting firms nationwide and speaking at regional and national conferences as an authority on marketing accounting services. His career includes leadership roles such as serving as the National Seminar Director at NCI's Practice Development Seminar, Director of NCI's Practice Development Coaching program and Director of Monitoring and Support. He is also responsible for leading NCI's accounting practice sales division and has been personally involved in the sale of over 125 firms nationwide. Todd is Series 7, 66, Life, Accident & Health Licensed. In his spare time he enjoys working out and spending time with his wife Jessica and three young children Sydney, Ben & Brooklyn.