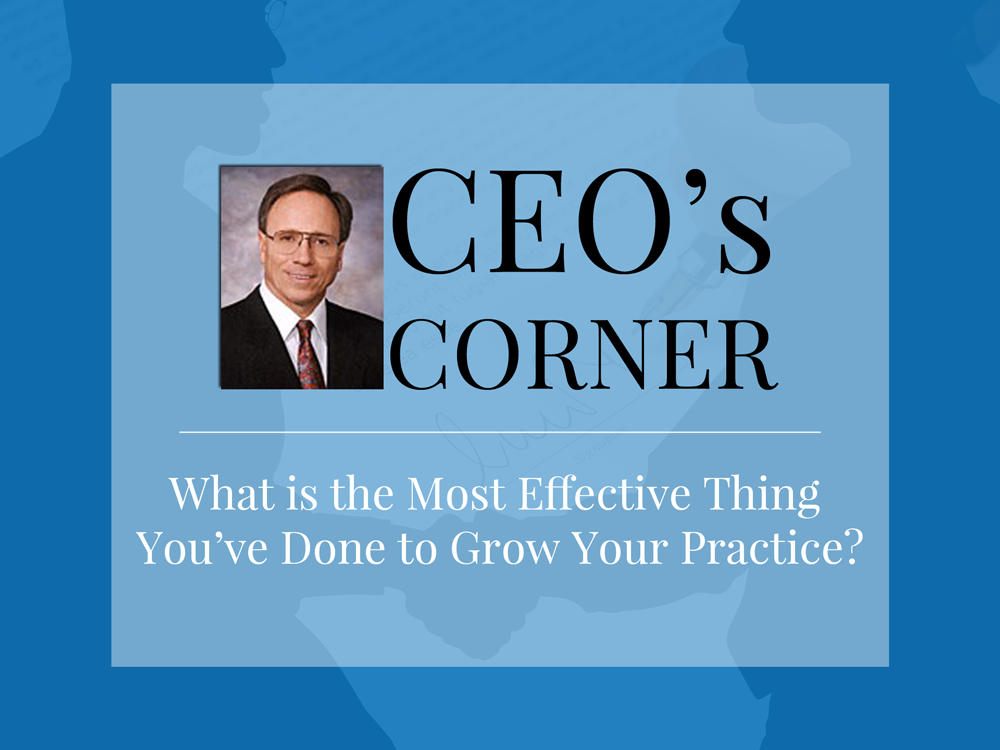 What is the Most Effective Thing You've Done to Grow Your Practice?
Monday, June 15th, 2015
From former clients who have implemented our Plan 2 or Plan 3 program, the answer we hear to the above question more than anything else is NCI. And I have to tell you nothing makes us prouder here at New Clients, Inc. to know this is what the vast majority of our clients think of us and the impact we've had on their businesses. Many of you have come back to us time and time again over the years to reach higher and higher with your practice development goals. I often speak to former clients who are ready to grow again but think NCI's marketing system may be dated considering all the changes that have occurred over the years with technology. I assure them nothing could be further from the truth. While many aspects have remained the same with what we do, if it's not broken-don't fix it, many new methods have emerged and have been integrated into the program that helped grow your business.
I thought it a good idea to outline some of those changes for those of you considering working with us once again. I'll do so in a question and answer format for clarity.
Q: Does NCI still use outbound calling to generate appointments with prospective clients?
A: Yes we do and here's why: it works better than anything else we've tried. We updated our phone scripts and added some new rebuttals to objections, but the basic premise is still the same and still generates the bulk of opportunities.
Q: What about social media, isn't that the new best practice when it comes to bringing on more business?
A: While it's important to maintain a social media presence, the bottom line is very few leads will come from social media. How do we know this? Our clients have told us through our interactions with them and in surveys we send out. Plus in my new accounting firm I started in November 2014, we went all out with social media. The results in six months are one client that we can trace came from our social media efforts and 80 new clients came from good old-fashioned outbound calling. There's just no comparison when you look at the results.
Q: What about the use of a salesperson to sell accounting services, is that still recommended?
A: Using a salesperson, or CSR as we refer to them, is still the best way to grow. That's how the majority of our most successful clients obtained their staggering results. It's also how my new accounting firm achieved those 80 clients in our first six months. Having said that, some of you know firsthand the risks associated with this approach. To help mitigate those risks NCI now uses a simple but effective online sales test/personality profile that helps us identify the best candidates for this positon. It greatly diminishes the risk of making a wrong choice and improves the odds for a successful hire.
Q: What about client processing and fees, has anything changed there?
A: Yes and no. We still use a standardized package of services along with numerous add-ons that are optional and our transaction-based pricing model for monthly accounting work. As far as processing, we still offer seminar training for this by Joe Pancerella, CPA who is a Plan 2 client who built a 1.2 million dollar firm with our help. We have also partnered with GKM to provide outsourced accounting processing to our clients who prefer that approach. Having now experienced what they do first hand for my clients I can say unequivocally this is the way to go if you are going to handle high volume billing. They are fast, efficient and cost effective–what more could you ask for? I can scale up and not deal with hiring, firing, payroll taxes, sick time etc. and at the same time provide quality service to my clients for about $11.00 per hour for a full-time bookkeeper. My clients never talk to anyone in India, all communication from India is to us via email. For those who are shouting right now "great, but you're sending jobs overseas" I say this: I'm creating jobs here in the United States. As we grow I'll need more accountants and clerical people, maybe even more sales people and appointment setters, so I'm creating opportunity right here in this country. Not to mention that by helping our clients grow (both through NCI and our accounting service) I am helping create numerous jobs across the U.S.
Q: What else has changed with the NCI marketing approach?
A: A lot depending on how long ago you did your program or considered doing one. We have developed several new promotional videos that may be utilized on your website. We have the sales presentation available in digital format so it can be presented on a laptop or tablet in the field. We've created more visually arresting tabs for the presentation book and we have new and improved hiring processes that now utilize a variety of websites including Monster.com, Indeed.com, your state's workforce commission website, Craigslist.com and others to better promote the sales and appointment setting positions. We also provide weekly coaching webinars for you and your CSR to work on skill refinement and other issues. Finally, we've updated all of our seminar training material.
That covers the new and improved NCI which is still the number one marketing and consulting firm for CPAs and accountants in the country. If you're thinking about growing your practice remember what helped get you where you are today and call us so we can have the honor of working with you again.
---
Bruce J. Clark, CEO Author, NCI Effect, Explosive Client Growth Plan for Accountants and CPAs; Beyond The NCI Effect, Sales Strategies That Matter to Grow an Accounting Practice
P.S. We know some of you are approaching retirement. If that's the case lets us know, we'll help you sell for a great return and a smaller fee than any practice broker in the market. Our experience in the industry paired with our thousands of accounting contacts will ensure a smooth transition and a quick sale.